Hours of Operation
7:30 a.m. to 5:30 p.m. Monday through Friday Children are enrolled on a full time basis; however, their daily schedule may coincide with the class schedule of the parent.
Fee Schedule
Effective September 1, 2019
| | |
| --- | --- |
| 6 Weeks - 1 Year | $900.00 per Month |
| 1 - 2 Years | $800.00 per Month |
| 2 - 3 ½ Years | $700.00 per Month |
| 3 ½ Years and up | $650.00 per Month |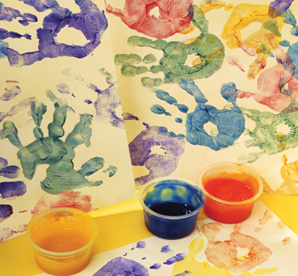 Location
The Child Development Center is located on the first floor of the Omniplex Building, Room 100.
Ways to Apply
You can call (423) 697-4412, come by the center to pick up an application, or use our convenient online application. There is a waiting list, so apply now!
CDC Application
The Child Development Center (CDC) is licensed through the Tennessee Department of Human Services with a three star rating. Children of Chattanooga State employees and students between six weeks of age and pre-kindergarten are eligible to attend.
The CDC utilizes developmentally appropriate practices for the infants and toddlers in its care with the goal of preparing these young children to be ready to enter school with the skills, knowledge, and attitudes essential for future success.
Students in the Early Childhood Education Department are strongly encouraged to complete their observations and practicum hours in the CDC. Additionally, an ECED faculty member annually serves on the Child Development Center Advisory Board and the CDC Director serves on the Early Childhood Advisory Board.
We believe that all children are unique individuals, and our goal is to provide the best environment in which self-esteem, confidence, and pre-academic skills may flourish.
Curriculum
The Center has adopted The Creative Curriculum. Teachers have been trained on its content. Preparation of developmentally appropriate learning activities and lesson plans are written each week.
Illustrations of such learning include:
weighting objects
measuring and pouring cornmeal
going on nature walks
pressing leaves and flowers
identifying insects
catching butterflies
Themes are explored through:
pictures
games
creative movement
Children will use all five senses in concrete and abstract learning activities.
Staff
We have a very highly qualified and caring staff. Staff members are:
CDA certified or holds an Associate or Bachelor degree
trained in C.P.R. and first aid
attend additional training throughout the year to keep current with trends and ideas in childcare
All employees have passed a background check which is required by the State of Tennessee.
Certificates & Scholarships Accepted by CDC
Chattanooga's Early Learning Childcare Scholarship
United Way of Greater Chattanooga

Call (423)-752-0312 for more details

CCAMPIS Grant-

Contact Child Development Center for more details