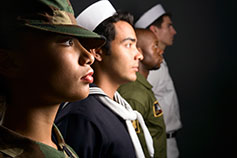 The Veterans Affairs Office is a resource center that provides individualized assistance with the process of completing and filing the appropriate forms so you can access your educational benefits. You can contact the School Certifying Official (SCO) either by calling or visiting the Veterans Affairs Office.
Participating ducational institutions in agree to the following guidelines:
Provide students with a personalized form covering the total cost of an education program.
Provide educational plans for all military and Veteran education beneficiaries.
End fraudulent and aggressive recruiting techniques and misrepresentations.
Accommodate Service members and Reservists absent due to service requirements.
Designate a point of contact to provide academic and financial advice.
Ensure accreditation of all new programs prior to enrolling students.
Align institutional refund policies with those under Title IV, which governs the administration of federal student financial aid programs.
Veterans Education Transition Support (VETS) Campus
Passed into law in 2014, the Tennessee Veterans Education Transition Support (VETS) Act establishes a program of recognition for higher education institutions which allocate resources for veterans' successful transition from military service to college enrollment.
An institution receiving VETS Campus certification not only prioritizes outreach to veterans', but successfully delivers the services necessary to create a supportive environment where student veterans can prosper while pursing their education. 
Conduct annual survey of veteran students to identify needs and get suggestions.
Provide information to faculty and staff about military and veteran culture.
Administer orientation programs for students who are veterans.
Facilitate mentoring and support programs for students who are veterans.
Develop outreach strategies for military bases located near the campus.
Create and maintain a process for the assessment of prior learning that grant academic credit to veterans for transferable training and experience attained through military service.
Provide a campus website with information to assist and support student veterans.
As part of the Veterans Benefits and Transition Act of 2018:
Covered individuals are permitted to attend or participate in the course of education during the period beginning the date on which the individual provides to the institution a certificate of eligibility for entitlement to education assistance under chapter 31 or 33 obtained from the Department of Veteran Affairs and ending on the earlier of the following dates.
The date on which payment from VA is made to the institution.
90 days after the date the institution certified tuition and fees following the receipt of the certificate of eligibility.
The institution will not impose any penalty, including assessment of late fees (by no fault of their own), the denial of access to classes, or other institutional facilities, or the requirement that a covered individual borrow additional funds, on any covered individual due to the individual's inability to meet his or her financial obligations to the institution, due to the delayed disbursement funding from VA under chapters 31 or 33.
Note: A covered individual is any individual who is entitled to educational assistance under chapter 31, Veteran Readiness and Employment (VRE), or chapter 33, Post/911 GI Bill® Benefits.