Chattanooga State Welcomes Quincy Jenkins as DEI Executive Director
June 23, 2020 | Betty A. Proctor | Internal Press Release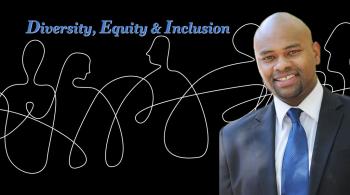 Chattanooga State Community College recently welcomed Quincy Jenkins as its inaugural executive director of Diversity, Equity, and Inclusion (DEI). Mr. Jenkins, a native of Carrolton, Georgia, comes to Chattanooga State after most recently being the inaugural director of Latinx Outreach at Dalton State for seven years, which led to it becoming Georgia's first Hispanic-Serving Institution. A current doctoral candidate at Vanderbilt University's Peabody College, Jenkins brings twelve years experience in higher education to Chattanooga State as well as proficiency in English, Spanish, Italian, and Chamorro/Guamanian languages.
"I am so very pleased to welcome Quincy to the Chattanooga State family," states Dr. Rebecca Ashford, Chattanooga State president. "Now more than ever, diversity, equity, and inclusion are paramount to the health of an organization like Chattanooga State. I look forward to partnering with Quincy to lead our college to be more inclusive for students and employees. He is already making a positive difference at Chattanooga State and in our community."
Jenkins notes that we live in a dynamic period within our society, marked by cultural and ethnic shifts. "This dictates that we have to remain committed to inclusive excellence more than ever before. Preparing our students for a rapidly increasing diverse and inclusive job market must be a critical component of any successful academic outcome," he states.
Chattanooga State's creation of the Diversity, Equity, and Inclusion division indicates that the institution is ready for the journey toward establishing and maintaining cultural pluralism. According to Mr. Jenkins, this requires vigilance, allyship, thoughtful strategies, reliable data, and intentional leadership.
With our mission bigger than any one employee, department, or field of study, Jenkins says, "We aim to provide academic opportunities to the entire community through inclusive excellence."
In keeping with his plan to build inclusive excellence, Jenkins has established his initial goals:
Empower the Equity Team to lead and sustain on-going, and often uncomfortable, campus-wide conversations concerning race, ethnicity, identity, poverty, gender, and opportunity;
Expand our common institutional understanding of diversity, equity, and inclusion;
Embed equity-mindedness in our practices, policies, and procedures across the institution;
Increase the success rates of our underrepresented demographics (Black/African American, low-income, rural, Latinx, and expand our definition as more awareness is born);
Frame and introduce ChattState as a leader in inclusive excellence through evidence-based research.
For more information about the Diversity, Equity, and Inclusion Division, contact Quincy Jenkins at (423) 697-3244 or email quincy.jenkins@chattanoogastate.edu.