Latest Annual Report Highlights Chattanooga State
April 9, 2020 | Betty A. Proctor | Internal Press Release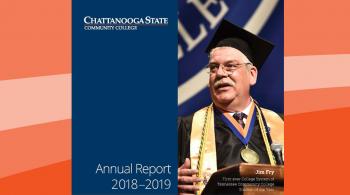 Chattanooga State Community College has published their annual report highlighting achievements and impact within its six-county service area during fiscal year July 1, 2018 through June 30, 2019.
Setting a new record in 2019, Chattanooga State awarded 1,339 graduates and 1,049 technical certificates and diplomas. Jim Fry, who returned to college at age 57, was awarded the first ever Tennessee Community College Student of the Year Award and inspired fellow graduates as commencement speaker.
Programs like Focus on Completion and Achieving the Dream helped to increase the number of graduates from low-income households by 19% over the past four years. Chattanooga State ranked second statewide in awarding the highest number of short-term certificates to low income and academically under-prepared students.
The College provided robust financial assistance beyond grant programs like Pell, HOPE, TN Promise, and TN Reconnect to qualified students by awarding more than $1.2M in institution and foundation scholarships to 865 students.
While 72% of Chattanooga State's student population is under 25, adult students over the age of 25 ranked second statewide in the number of associate degrees awarded. Degree-seeking graduates enjoyed a low student-to-teacher ratio of 16:1 and a 97% job placement rate.
As home to the only full-embedded technical college on a community college campus in the state, the Tennessee College of Applied Technology (TCAT) reported an impressive number of students involved in the national SkillsUSA program, which celebrates the dignity of work for careers in trade, technical, and skilled service occupations. During 2019, ninety-one percent of participating students earned medals at the annual statewide SkillsUSA competition while also receiving the coveted James D. King award. At the national competition, TCAT-Chattanooga won the Gold President's Volunteer Service Award.
Serving the community is a significant part of Chattanooga State's mission. The Economic and Workforce Development (EWD) division provided 61,763 workforce training hours serving 193 local and regional businesses. Under the umbrella of the EWD, the Tennessee Small Business Development Center (TSBDC) ranks #1 statewide in terms of serving the most small business clients, most jobs created/retained, and in the highest capital infusion of more than $25M.
Chattanooga State's 2018-2019 Annual Report is available to the community at https://chattanoogastate.edu/sites/default/files/annualreport2018-2019.pdf.