Math and science are leading fields yielding countless opportunities. To gain a quality education that leads to a rewarding career take advantage of our university transfer programs. Let's obtain the brightest future together!
Scholarships
Scholarships are available to students based upon their academic performance, community service, residency and other criteria as defined by the founder or donor of the award. Both the State of Tennessee and the Chattanooga State Foundation provide scholarships for qualified students.
Student Opportunities
Math Center
Located on the second floor of the Instructional Materials Center in IMC-225, the center is open days, nights, and weekends to help students with all levels of math. The center is equipped with over 180 computers for use by students. Math faculty and tutors are always available to assist students.
Partner Outreach
Early College Hybrid Online (ECHO)
Chattanooga State's mathematics department offers early college math courses to high schools through its Early College Hybrid Online (ECHO) program. An innovative team of college and high school math teachers was assembled to deliver ECHO online courses in a blended learning format. Any high school with a computer lab or classroom can offer these college-level math classes to their students. Currently, the program is offered in 13 Chattanooga area high schools. Students at these schools receive a head start on their college career. The success rate for students in the program is very high, both during high school and later in their college career.
Science Olympiad
The Science Olympiad is an international nonprofit organization devoted to improving the quality of science education, increasing student interest in science, and providing recognition for outstanding achievement in science education by both students and teachers. Teams of 15 students work on collaboration and problem solving skills throughout the year in preparation for each of the Science Olympiad events.
Division News
Chattanooga State Announces "Drive-in To Your Future" Event
According to the U.S. Department of Education (DOE) in 2017-2018, more than 78% of first-time, full-time students attending two-year degree-granting postsecondary institutions were awarded more than $120M in financial aid by the Federal Student Aid program to help pay for college or career...
read more about Chattanooga State Announces "Drive-in To Your Future" Event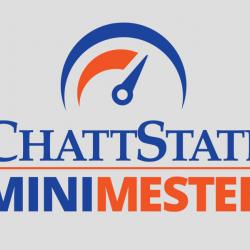 Chattanooga State Announces Fall "Mini-Mester" Opportunity
if you weren't quite ready to start your college journey in August, Chattanooga State is offering a 7-week Mini-Mester with classes beginning October 14, 2020. This is a great opportunity to start a degree or simply get ahead. The condensed 7-week term allows a student to complete one of many...
read more about Chattanooga State Announces Fall "Mini-Mester" Opportunity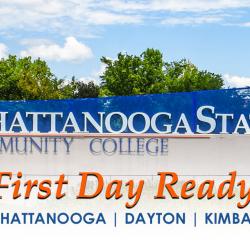 Ready Day One! Classes Start August 24
Before Coming to Campus...
If you need to come to campus, you must complete the required health screening questionnaire. The questionnaire must be completed every day and by every individual coming to campus, including multi-passenger vehicles. Every...
Contact - Roni Abraham | (423) 697-2626 | Office - OMN F6


​ChattState clubs and organizations use ChattSync to communicate with students and staff. It's an excellent tool for promoting student involvement, and managing events and websites.