Latin Festival Celebrates Success
In 2019, the fifth Annual Latin Festival not only changed locations, but seasons as well. Traditionally held each spring, the event was moved to September in honor of Hispanic Heritage Month and relocated to the main campus of Chattanooga State Community College to provide a welcoming,...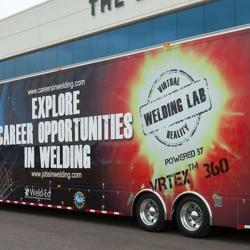 AWS Exhibit Trailer to Visit ChattState
The American Welding Society (AWS) trailer will pull into Chattanooga State Community College with their "Explore Career Opportunities in Welding" traveling exhibit on Monday, October 21. The exhibit will be set up in parking lot P-17 in front of the Center for Engineering, Technology, Arts...
Chattanooga State Hosts Build Chattanooga Event
Chattanooga State Community College will host Build Chattanooga on the lawn of the Center for Engineering, Technology, Arts & Sciences building (CETAS) on Thursday, October 17 from 10 a.m. to 2 p.m.
This event provides an opportunity to learn about the construction industry, identify...
read more about Chattanooga State Hosts Build Chattanooga Event