Deadline Dates
Priority - June 1 of each year
If weekend, due following Business Day.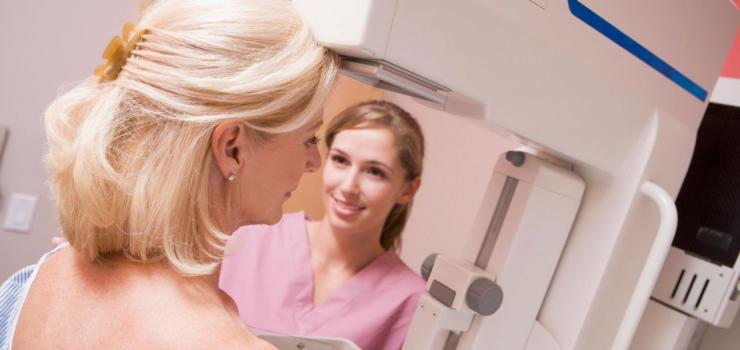 The Mammography certificate program is newly redesigned and delivered fully online to meet the professional needs of working radiologic technologists for formal specialized education in Mammography.   The curriculum follows the ARRT content specifications and is designed to prepare you for the Mammography registry.  Completion of both didactic courses will satisfy the structured education requirement for 16 hours of Mammography relevant education to be eligible for the post-primary exam offered by the ARRT.
MMGY 2410 – Mammography Patient Management (4)
 
MMGY 2420 – Mammography Instrumentation/Physics (4)
 
MMGY 2830 – Mammography Clinic (8)
The certificate is divided into three courses which may be taken independently; however, it is strongly recommended that the entire curriculum be completed for exam preparation.
The following topics are included in the curriculum:
patient care and management
whole body cross-sectional anatomy
pathology
imaging procedures with protocols
scanning methods
digital imaging
quality control
equipment operation
radiation protection
The official Mammography certificate will only be awarded to students who complete requirements for all three courses.  The clinical education component is conducted at an approved clinical education center under the guidance of an approved clinical preceptor.  Clinical experience includes a minimum of 120 hours of training per semester and competency evaluation of a variety of exams required to sit for the ARRT Mammography registry.  Students affiliated with clinical sites in Tennessee are required to complete a series of general clinical orientation quizzes.  All accepted students will be provided instructions for programmatic requirements prior to program start date.  Students enrolling in the clinical course will be required to submit the following documentation at their own cost:
10-panel drug screen
criminal background check
physical exam
online record documentation fee
liability insurance (Chattanooga State Bursar's Office)
radiation badge (Chattanooga State Bursar's Office)
N95 respirator fit test
TB skin test
CPR (American Heart Association – BLS for Healthcare Provider)
Immunizations or titers (hepatitis B, MMR, Tdap, varicella, seasonal flu)
 Tuition and fee costs can be viewed at https://www.chattanoogastate.edu/financial/tuition-fees/erate-fee-table
All program courses are eligible for financial aid assistance. Financial Aid information can be viewed at https://www.chattanoogastate.edu/financial/financial-aid