Engineering Systems Technology A.A.S
Engineering Systems Technology A.A.S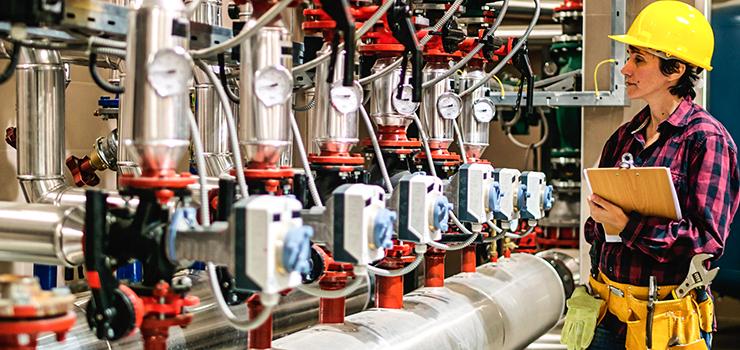 Industrial engineering technicians help industrial engineers implement designs to use personnel, materials, and machines effectively in factories, stores, healthcare organizations, repair shops, and offices. They prepare machinery and equipment layouts, plan workflows, conduct statistical production studies, and analyze production costs.
Program Educational Objectives
Graduates will have a strong foundation of scientific and technical knowledge and hands-on experience to be equipped with critical thinking skills, and appreciation for team work, and effective communication skills required for engineering technicians.
Graduates will meet or exceed standards for engineering technicians with technical service firms in local or regional industries or governmental agencies.
Graduates will recognize the importance of professional development, continued learning, service to the local and global communities and will engage in discipline-specific organizations that foster these opportunities.
Enrollment/Graduation Data
Graduates Spring 2017: 49
Enrollment Fall 2016: 183
Advisory Committee Member

Organization

Title

Wade Silvey

TCAT-Machine Tools

Machine tool Technology

David Burgess

TCAT - Mechatronics

Industrial Processes. Department Head

Instructor Industrial Trainer Mechatronics

Kyle Lee

TCAT-HVAC

Instructor HVAC/R

Jamie Donald

Millwrights JATC

Business Representative

Mario Durante

Volkswagen of America Chattanooga Operations LLC

Sr. Manager, Organizational Development

Randy McCallie

TN Rand

Automation Manager

Paul Synder

Southern Champion Tray

Electrical Engineer

Denise Rice

Consultant

Owner

Terry Townsend

Townsend Engineering

Owner

Jeffery Choice

Brozelco

Automation Specialist

Larry Clark

McKee

Retired, Senior Electrical Engineer Program Manager

Jim Martof

ISG

Owner

Dale Wright

Duracell

Retired, Automation Designer

Rick Silberman

Ben Parker

Director of Operations

Tim Lewis

Roadtech

Safety Director & HR Manager

Keith Dietrich

TVA

Director of Operations

Daniel Cardin

April Hooper

Red Rooster Welding

Corporate Welding Engineer Program Manager

Michael Brandt

Garage Bound

Owner

Jamie Donald

Milwrights JATC

Business Representative

George Graham

Wacker Polysilicon

Director of Operations, Poly
Student Outcomes
An ability to apply the knowledge, techniques, skills, and modern tools of the discipline to narrowly defined engineering technology activities.
An ability to apply a knowledge of mathematics, science, engineering, and technology to engineering technology problems that require limited application of principles but extensive practical knowledge.
An ability to conduct standard tests and measurements, and to conduct, analyze, and interpret experiments.
An ability to function effectively as a member of a technical team.
An ability to identify, analyze, and solve narrowly defined engineering technology problems.
An ability to apply written, oral, and graphical communication in both technical and non-technical environments; and an ability to identify and use appropriate technical literature.
An understanding of the need for and an ability to engage in self-directed continuing professional development.
An understanding of and a commitment to address professional and ethical responsibilities, including a respect for diversity.
A commitment to quality, timeliness, and continuous improvement.