Physical Therapist Assistant - A.A.S.
Deadline Dates
Application Deadline: first Monday in March of each year
(TEAS test - Complete before the Application Deadline)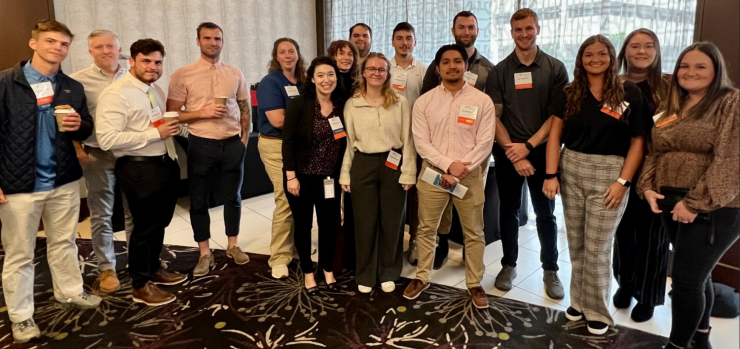 Photo: PTA students attend the American Physical Therapy Tennessee chapter state meeting.

Information Session RSVP - Physical Therapist Assistant
---
Physical Therapist Assistants (PTAs) work under the direction and supervision of a Physical Therapist (PT). PTA's perform physical therapy treatment interventions delegated by the supervising Physical Therapist. The PTA Program is a combination of classroom, laboratory and clinical practice designed to prepare the student in the use of therapeutic exercise, physical therapy modalities, clinical communication skills, and special treatment procedures. Program content is based on recommended guidelines as established by the American Physical Therapy Association and the Commission on Accreditation in Physical Therapy Education. The program prepares students to take the board examination for Physical Therapist Assistants administered by the Federation of State Board of Physical Therapy for the state. Students preparing to enter an educational program in physical therapy should have a strong math and science background.
Additional Links:
Accreditation
The Physical Therapist Assistant Program at Chattanooga State Community College is accredited by the Commission on Accreditation in Physical Therapy Education (CAPTE)
Address: 3030 Potomac Ave., Suite 100, Alexandria, Virginia 22305-3085
Telephone: 703-706-3245
Email: accreditation@apta.org
If needing to contact the program/institution directly, please call 423-697-4730 or email​ Caroline Rogers
Mission
Consistent with the mission of Chattanooga State Community College, the Physical Therapist Assistant Program will transform individual student lives, support professional growth of faculty members and provide development opportunities for members of the physical therapy workforce in our area. The program will educate and develop safe, competent, compassionate, knowledgeable and ethical Physical Therapist Assistants who are able to secure employment and provide high quality contemporary physical therapy services under the supervision of a Physical Therapist.
Program Outcomes
Year(s) 

Graduation Rate 

NPTE First-Time Pass Rates / Ultimate Pass Rate 

Employment Rates 

2019 

100% 

100% / 100% 

100% 

2020 

95.8% 

100% / 100% 

91% 

2021 

91.6% 

100% / 100% 

100% 

Two-Year Average  

2020-2021 

93.7% 

100%/ 100%  

95.5%  

2022 

91.6% 

100% / 100%  

TBD  
Employment Opportunities:
Employment opportunities are diversified. Physical Therapist Assistants may be employed to work under the direction and supervision of a Physical Therapist in hospitals, home health agencies, rehabilitation hospitals, skilled nursing facilities, school systems/pediatric center, and outpatient clinics.
Physical therapist assistants help physical therapists to provide treatment that improves patient mobility, relieves pain, and prevents or lessens physical disabilities of patients.
Physical therapist assistants need a moderate degree of strength because of the physical exertion required in assisting patients with their treatment. In some cases, you may need to lift patients. Frequent kneeling, stooping and standing for long periods also are part of the job. Physical therapist assistants should be well-organized, detail oriented, and caring. They usually have strong interpersonal skills and a desire to help people in need.
Student Costs
Costs Disclaimer
These are estimated program costs. Actual costs may vary due to changes in tuition and/or fee increases as determined by the Tennessee Board of Regents. This cost will also be reduced for students since some of the required course work is completed prior to acceptance into the program. These general and support courses taken before the program is to lessen course load in a given semester.
Note: College fees are included in the maintenance cost. To view current calculation table, go to Bursar's Office on Chattanooga State website. This website will also give you information on refund policies, fee payments and the refund calendar.