Tiger Trio Embark on ChattState Journey
October 11, 2017 | | Student Success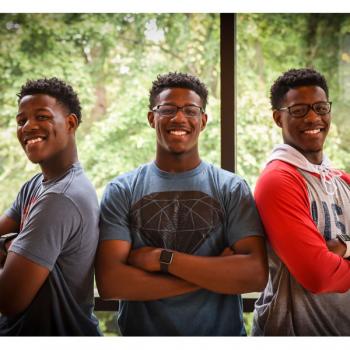 Chattanooga State Community College has new freshmen brothers this fall.  Meet Chris, Caleb and Chauncey Figgures. Since their arrival on campus, they have intrigued both instructors and peers because they are identical triplets. What is even more interesting is that they were the first African-American triplet babies to be born in Chickamauga, Georgia as well as the first African-American triplets to ever graduate from Ridgeland High School in Rossville, Georgia.
First time college students making the transition from high school to college can find it to be an intimidating, stressful and overwhelming time of life. In order to make the acclimation process to college easier, the triplets chose Chattanooga State for its affordable tuition, familiarity, and its reputable transfer programs. However great their anxiety may be, there are many aspects of college that excites them. "Meeting other students, getting to know our teachers, and seeing what the world has to offer us are some exciting moments of college," states Chris.
After graduation from Chattanooga State, the triplets' goal is to transfer to the University of Tennessee at Chattanooga where Chauncey and Chris will continue to pursue their studies in mass communications and Caleb in business administration. They also hope to play football or basketball for the Mocs. They have been playing basketball since the age of six and football since the age of 10, but for now they are keeping focused on their studies. In the meantime, while in school, all three are looking for student internships in order to gain experience in the fields that they are each pursuing.
Even though the brothers may be identical, their unique interests and personality traits is what sets them apart as individuals. Some of the characteristics used to describe one another are goofy, athletic, knowledgeable, hardworking, dramatic and talented. They dressed alike as young children, but by the time they were in middle school it became time for them to express their independence both in appearance and by exploring their separate gifts and talents.
Chris, the oldest triplet, loves music, especially playing the drums, and volunteers on the church media team. He hopes to one day become either a sports or news anchor. Chauncey, the middle triplet also enjoys sports, playing the guitar, technology, radio and computers. Like Chris, he too serves on the church media team and has similar aspirations to become a sports or news anchor.
Caleb has different dreams but also is involved in his church as a Sunday School teacher where he sometimes preaches as well. "I hope to one day obtain my doctorate in business at Liberty University and move to a bigger city to pursue my dream of becoming CEO of a major corporation," says Caleb.
Growing up, the triplets had a very typical childhood full of many memories, such as getting in trouble for eating all of the food in the house or playing tricks on their teachers while in school. "The most cherished memory however was graduating elementary, middle and high school together as brothers and as friends," says Chauncey. The triplets come from a large, close family and were especially close to their grandfather, Walter Lee McLin, who was influential in helping them become the men that they are today. Chris, Chauncey and Caleb also have two older brothers, one older sister and three sets of twin cousins.
Story by Hannah Baker