May 22, 2017 | | Student Success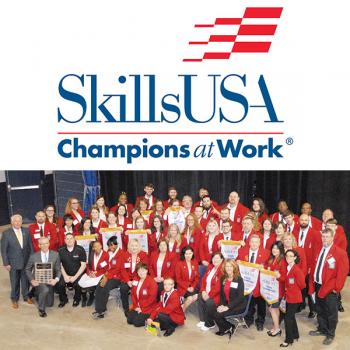 Students in the Tennessee College of Applied Technology (TCAT) division at Chattanooga State Community College recently competed against hundreds of other Tennessee TCAT students during the annual Tennessee Postsecondary SkillsUSA competition held in Chattanooga.
During the two-days of competition, 49 TCAT Chattanooga students competed in 36 contests. For their efforts, the students earned 13 gold, 8 silver, and 5 bronze medals. Their advisor will accompany the gold medal winners as they travel to Louisville, KY for the SkillsUSA National Leadership and Skills Conference the third week in June. 
In addition to the individual medal winners, TCAT Chattanooga received the James D. King award for the second year in a row, for accumulating the highest number of points between the TCAT's that have an enrollment greater than 500 students.
The following TCAT Chattanooga students placed in the gold, silver and bronze categories:
GOLD:
Theodore Peabody, Chattanooga, Automotive Refinishing; Tim Chastain, advisor
Frederick Jackson, Chattanooga & Chris Foy, Chattanooga, Barbering & Barbering Model; Rebecca Stewart, advisor
Jacob Spencer, Hixson, CNC Technician; Sam O'Rear, advisor   
Tim Canarela, Ringgold, GA, Electronics Technology; Sandra Lambertino, advisor
Andrea Jackson, Hixson & Riley Bedingfield, Chattanooga, Esthetics & Esthetics Model; Brandy Krantz, advisor
Kadie Rich, Soddy-Daisy, First Aid & CPR; Kristi Caves, advisor
Jamie McCormick, Cleveland, Health Occupations Portfolio; Kristi Caves, advisor
Chris Matherley, Chattanooga, Industrial Motor Controls; David Burgess, advisor
Hunter Tallant, Ooltewah, Marine Service Technology; Jimmy Jones & Ed Grun, advisors
Christian Bigsoldier, Rock Spring, GA, Motorcycle Service Technology; Jimmy Jones & Ed Grun, advisors
Marisa Taylor, Rossville, GA, Nursing Assisting; Kristi Caves, advisor
Nicolas Fuson, Dayton & Jordan Wilkey, Soddy-Daisy, TN, Robotics and Automation Technology; Scotty Holland, advisor
Laura Smartt, Soddy-Daisy, Technical Computer Application; Mike Mercer, advisor
SILVER:
Dana Shaver, Dayton, Cosmetology; Rebecca Stewart, advisor
Sarah Goldsmith, Shehan Guines, & Tori Turner, all from Chattanooga, CPS- Human Services; Nateka Coppock, advisor
DaMichia Litte, Chattanooga, Employment Application Process; Diane Jackson, advisor
Catherine Fairbanks, Chattanooga, Medical Assisting; Cindy Rutledge, advisor
Melissa Yinger, Chattanooga, Medical Math; Kristi Caves, advisor
Brittany Smith, Whitwell & Chloe Ault, Chattanooga, Nail Care and Nail Care Model; Elonia James, advisor
Kevin Brown, Cohutta, GA, Power Equipment Technology; Jimmy Jones & Ed Grun, advisors
Ashley Brann, Chattanooga; Jeniffer Delgadillo, Fort Oglethorpe, GA & Jeremy Copeny, Chattanooga, Promotional Bulletin Board; Elonia James & Mike Mercer, advisors
BRONZE:
Cynthia Hunter, Soddy-Daisy, TN, Collision Repair Technology; Tim Chastain, advisor
Dylan Lowe, Cleveland, Diesel Equipment Technology; Michael Harris, advisor
Allen Hunter, Chattanooga; Ben Shelby, Charleston; John Lee, Soddy-Daisy; Johnny Boss, Hixson; Jonathon Walton, Cleveland & Rusty Crumb, Chattanooga, Quiz Bowl; Jill Wentworth, advisor
Todd Smith, Hixson, HVAC/R; Houston Graham, advisor
Toni Standifer, Hixson, Practical Nursing; Kristi Caves, advisor
For more information about programs in the Tennessee College of Applied Technology and how TN ReConnect can further your education, tuition-free, visit https://www.chattanoogastate.edu/tcat or call 423-697-4433.