Hansen is Jack Kent Cooke Young Scholar
October 10, 2016 | | Student Success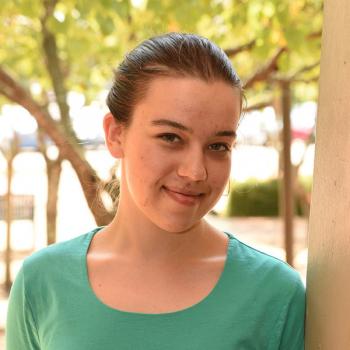 Just imagine receiving support throughout high school for whatever you wanted to study. This, along with countless perks to enhance your educational experience, is exactly what Collegiate High student Anemone Hansen received when she applied for and received a Jack Kent Cooke Young Scholarship (JKC) during middle school.
Now in her junior year of high school, on track to graduate high school early in May 2017, Anemone has enjoyed and participated in a greater number of experiences than the average high school student thanks to this scholarship. In addition to paying for her Collegiate High tuition and most of her textbook expenses, a number of expeditions funded by JKC broadened her cultural experiences. Expeditions included a weeklong journalism camp in Michigan, a two-week language immersion in Minnesota, a Spanish Service adventure in Costa Rica, dance studies at Ballet Tennessee, and some summer intensives. Her three trips with the JKC Foundation to the Northeast included a welcome weekend, service project week, and a scholar's college preparation/visitation week.
Anemone is also a Global Scholar honors student with an impressive 3.954 GPA. On target to graduate high school and Chattanooga State with an associate degree in 2017, she hopes to attend Covenant College, majoring in English. Despite a heavy academic schedule, Anemone balances it by reading, writing, dancing and crocheting.
Without the JKC scholarship Anemone admits she would not have been able to attend Collegiate High School – something she truly loves. "I'm so glad that I could come here for high school because I am more of an independent learner, so I am able to go at my own pace and I don't have to deal with busywork. I also am grateful for the varied life perspectives of my classmates because I learned so much more about what's important than I would have at a regular high school," state Anemone.
There are many scholarship opportunities out there, but unfortunately, not all students realize that or take advantage of them. Anemone shared her advice for other students interested in applying for a Jack Kent Cooke scholarship, "They look for students who do well in school, who have financial need, and who have a variety of interests and things in which they are involved. They emphasize service, so keep a clear record of activities, honors, test scores, and grades when preparing the application. The writing is also very important for the college scholar application." Anemone also says that JKC looks for young people who are "unique and able to express what they are passionate about."   
Anemone credits her middle school teachers at the Center for Creative Arts for their support in obtaining the scholarship, as well as Collegiate High mentors Amy Blazek, counselor, and Dr. Sonja Rich, principal, who continue to help her with her class schedule and provide encouragement regularly.
For more information about Hamilton County Collegiate High at Chattanooga State please call 423-697-4492 or visit https://www.chattanoogastate.edu/high-school/collegiate-high.