Fall 2017 Phi Theta Kappa Inductees
November 27, 2017 | | Student Success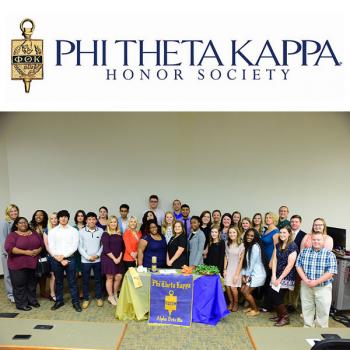 Phi Theta Kappa (PTK) is the international academic honor society for two-year colleges. Chattanooga State's PTK chapter Alpha Beta Mu recognizes and encourages academic accomplishments among its students. Students must be invited to the chapter by having completed at least twelve college credit hours and have a minimum cumulative college-level GPA of 3.5. Upon membership, students are required to maintain a 3.2 college-level overall GPA.
The following students were inducted into PTK during the 2017 fall induction ceremony:
Bradley County: Angelica Cole, Jonna Welch
Marion County: Makayla Nelson
Hamilton County: Hasnat Amir, Neil Alay, Dennis Brodeur, Sofya Chikivchuk, Anja Christensen, Alexis Crompton, Carissa Covera, Kenya Ervin, John Fish, Megan Holloway, Darishia Howell, Hannah Jones, Jordan Kilgore, Robert Klassen, Colin McCormick, Sara Million, Shelby Pardue, Devyn Powers, Hannah Rawn, Lydia Reinink, Kalie Shaw, Abbey Sutherland, Kayliegh Sutton, Rebecca Youngblood
Sequatchie County: Josie Dunaway
For more information about PTK at Chattanooga State, please contact Rachael Falu at Rachael.Falu@chattanoogastate.edu or visit PTK's website ptk.org for more details about the international organization.