Alumnus Keith Myers Recognized by TPTA
August 15, 2017 | | Student Success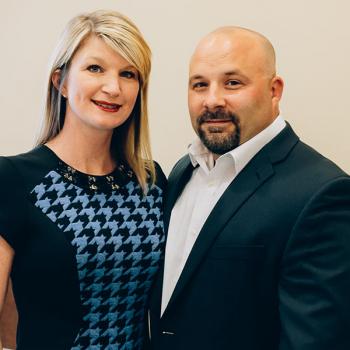 The Tennessee Physical Therapy Association (TPTA) presented the Outstanding Physical Therapist Assistant of the Year Award to Keith Myers, PTA, MBA, CEAS III, and CEFE, of BenchMark Physical Therapy. Myers, a 2004 graduate of Chattanooga State's Physical Therapist Assistant program (PTA), also holds both a bachelor's and master's degree in Business Administration from Bryan College.
TPTA presents this award annually to those individuals who have exemplified character traits of an outstanding PTA. Recipients are committed to the growth of the TPTA and to the profession of physical therapy, while receiving recognition from colleagues for exceptional service.
Myers has been employed at BenchMark Physical Therapy since February 2001. In 2008, he was named Regional Director. Currently, he oversees the day-to-day operations of 21 clinics in Tennessee and North Georgia, including the clinic budgets, acquisitions, case management, lease and contract negotiations, compliance and marketing, and hiring. Recently promoted to Vice President of Industrial Services and Workers' Compensation, Keith says, "This is a national company position and I will oversee and sell our industrial services line which includes pre-employment, first aid, flex and stretch, wellness programs, etc., as well as workers' compensation in all of BenchMark Rehab Partner clinics."
Myers believes that there is a clear difference in the caliber of clinician that Chattanooga State produces. "Chattanooga State graduates have a much better understanding of exercise protocol and how to progress a patient under the established POC (Plan of Care). Their anatomy background is superior to other programs and they have a solid base when it comes to joint mobilizations and soft tissue. Caroline Rogers, Director of Physical Therapy Assistant Program at Chattanooga State, is a great instructor as well as a great voice for PTA's within our profession. She pushes her students to be involved in their professional organization and to excel in the workforce," states Myers.
Rogers shares that opinion of her students. She says, "The PTA program at Chattanooga State depends on dedicated PTA's who provide exemplary patient care, share their knowledge with students, maintain consistent mentoring relationships with graduates and serve our profession."
BenchMark also provides clinical rotations for current PTA students from Chattanooga State. Myers along with two other staff members, David Harris and Simon Ibrahim, have been guest lecturers for the college's PTA program. Many of the staff serve as clinical instructors for the students.
BenchMark employs a total of 14 Chattanooga State PTA graduates including Amanda Myers, PTA, MBA: Director of Marketing (2006); David Harris, PTA MBA, CIMT: Assistant Vice President of Acquisitions (1999); Tiffany Holt, PTA (2004); Simon Ibrahim, PTA, CIMT, CEAS, (2004); Rhonda Haley, PTA: Clinic Director (1996); Nick Holcomb, PTA, CLT, CAES: Clinic Director; Morgan Williams, PTA, BS: Clinic Director (2011); Kristie Kessler, PTA, CEAS (2007); Cindy Stanaway, PTA (2005); Rikki Heard (2013); Michelle Cash, PTA (2012); Chandra Campbell (2014); Caleb Capshaw (2016); and Kenneth Morgan (2009).
For more information about Chattanooga State's Physical Therapist Assistant program, contact Caroline Rogers at 423-697-4730 or visit https://www.chattanoogastate.edu/physical-therapist-assistant-aas.
Written by By Hannah Baker, Chattanooga State