Alumni Association President is Second of Third Generation Legacy at ChattState
March 20, 2017 | | Student Success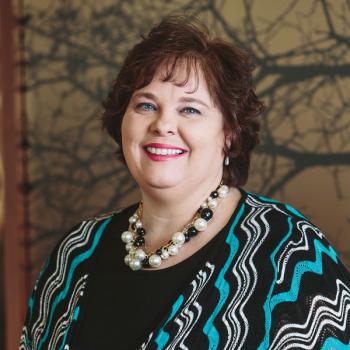 Julie Davis is second in line to three generations of ChattState students. Mother, Jane Cook, and daughter Julie shared an interesting experience as they attended ChattState simultaneously. Julie admits she didn't love the idea of starting college with her mom, but after a while she really enjoyed it and says she is proud of her mom for going back to school. Julie's daughter, Shelby Pardue, currently attends ChattState and is working in the enrollment department. Julie's father, Richard Cook, was employed by the ChattState Police Department.            
Julie attended ChattState in 1989-1991 as a transfer student that allowed her to transfer to UTC as a Business Administration major. While at ChattState, she worked in the Career Planning and Placement office (now Career Services) where she met several women: Debbie Adams, Elaine Swafford and Betty Odom Soward, whose guidance was instrumental to her professional growth. "I worked with an amazing group of women who offered inspiration and helped to show me what success could look like," she says.
She cites Debbie Adams as particularly helpful during her time at school and even after she graduated. "Debbie was the most influential woman I had ever had in my life other than my mom. She introduced me to a world I never knew existed outside my little hometown of Soddy-Daisy. I am thankful to this day that our paths crossed. My mom taught me how to be a great mom and woman; Debbie taught me how to be a great professional."
While working in the Career Planning and Placement office, she was able to apply for a job that was posted for a data entry person at Raymond James. Twenty-seven years later, she is now a Financial Advisor there. "I literally grew up in the business and became the person I needed to be professionally to be successful in this career," reflects Julie.
Julie currently serves as the first president of the Chattanooga State Alumni Association. With the whole family having such a strong connection to the school, Julie has a great insight on the school and how to strengthen the alumni community. Julie says she is so proud of her multi-generational Chattanooga State legacy. "The school and my time spent there made such an impact on my life, I am hopeful my daughter now has the same great experience. It is an amazing and unique campus, which somehow suits every student regardless of age, race, background and so on. I could not be more honored to be part of it," she states proudly.