2017 Hats Off to Excellence Winners Recognized
June 19, 2017 | | Student Success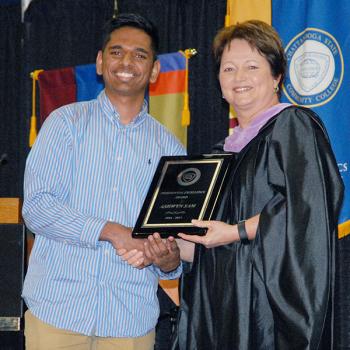 Chattanooga State Community College Interim President Debbie Adams conducted the 2017 Hats Off to Excellence Awards and declared four winners of the President's Award, the highest award at the college. Candidates are interviewed and selected by the president. The awardees included Austin Adderholt of Fort Oglethorpe, GA; Jessica Aldridge, Melissa Rader, and Ashwyn Sam of Chattanooga.
Dr. Dana Nichols, Vice President for Academic Affairs acknowledged the following Summa Cum Laude students. These students have completed at least 40 hours of coursework and have maintained a cumulative 4.0 Grade Point Average.
The students living in the Greater Chattanooga/Hamilton County area include: Gay Baran, Joy Baxendall, Kaylie Blackwell, Amanda Bolich, Robert Choyce, Jefferson Davis, Victoria Diaz, Luccas DoCarmo, Aaryn Drapiza, Kaitlyn Fox, Nathan Goza, Anemone Hansen, Andrew Hartley, James Helferich, Susan Herrin, Seth Jones, Michelle Katz, Heather Marsh, Katelyn Martin, Misty Martinez, Whitney Patterson, Michelle Phillips, Melissa Rader, Jennifer Whitmire-Reno, Miranda Roberson, Merlyn Roy, Kristle Spears, Sarah Swainson, Zion Wandell, Breniaha Wamble.
Bradley County: Drake Barker, Charles Caylor, Jessica French, Hailee Kincannon, Brittany Suits, and Kristin Warnock
Grundy County:  Summer Shipley
Marion County:  Jamie Adams, Seth Drey, Angela Jones, Mark Lynch, Mikayla Ramsey
Polk County: Reagan Potts
Wilson County:  Kristen Kurth
Catoosa County, GA:  Jennifer Moss, Amanda Renfro, Austin Thurber, Gayla Turner
Chattooga County, GA:  David King
Dade County, GA:  Molly Burick, Danielle Houts, Abigail Smith
Fannin County, GA:  Jennifer Moss
Jackson County, AL:  Courtney Bolton
Hamilton County Collegiate High School at Chattanooga State named Joy Baxendall as Valedictorian and Heather Marsh as Salutatorian.
Each respective academic department of the college recognized an outstanding student of merit. Business & Information Technologies: Austin Wilkerson, Signal Mountain; Mathematics & Sciences: Luccas Docarmo, Chattanooga; Humanities & Fine Arts: Itzel Margot Toro; Nursing & Allied Health: Sarah Bryant, Hixson and Miana Mahaffey, South Pittsburg; Social & Behavioral Sciences: Charles Caylor, Cleveland.
The Diversity Club was named Club of the Year. Named as Advisors of the Year were Elonia James and Mike Mercer for Skills USA and Angela McClister, Instructor of Media Technologies and advisor to the student newspaper, The Communicator.
Debbie Waggoner, a former counselor who lost her battle with cancer in 1995 at age 43, left a permanent impact upon the campus because of her dedication to students. The "Debbie Waggoner Above and Beyond Award" was established in her honor. Daniela Ray, an Outstanding Graphic Arts Technology student, was the recipient.
Eye of the Tiger Awards are given to those students for tremendous contributions to the campus life of Chattanooga State and/or to the community. It also recognizes those students that have excelled academically despite unfavorable, overwhelming odds. This year's winners were Sherry West, Chattanooga; Jessica Roddy, Hixson; Katie Lockhart Whitwell; Katie Sullivan, Pikeville; Kristen McCormick, Trenton, GA; and Wendy Ericson, Rock Spring, GA.
To explore opportunities for students or to enroll at Chattanooga State, call 423-697-4401, visit the main campus or satellite sites, or click on www.chattanoogastate.edu.