10 Teams Compete in 4th Annual VEX Robotics Competition
November 7, 2017 | | Student Success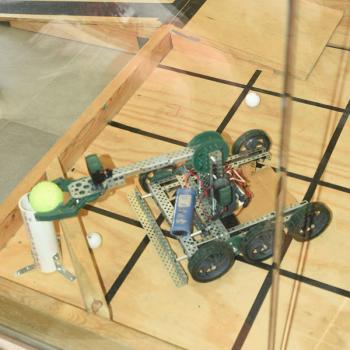 TVA and Greater Chattanooga Robotics are co-sponsoring the 4th Annual VEX Robotics Competition with Chattanooga State's RC-NET (Regional Center for Nuclear Education Training) program. The competition is shaping up to be quite an exciting event tomorrow, starting at 10 a.m. in the WACKER Institute located inside the Center for Engineering, Technology, Arts & Sciences building. A total of 10 teams from East Hamilton, Ooltewah, Hixson, The Howard School, and Central high schools – including an all-girls team from Central – will come together to battle it out as the top VEX Robotics team.
Each school has provided one or more teams this year. The competition is serious business between high school teams who aim to build the best robot that will get the job done and earn bragging rights along with the team trophy to take back to their school.
VEX Robotics embraces explorative STEM learning. Student teams design and build a robot from parts that resemble erector set pieces. They play against other teams in a game-based engineering challenge.
This competition challenges students to not only use critical thinking skills, but also to pay close attention to the laws of physics so that their robot moves quickly and easily, can carry weight and move without tipping, as well as function properly.
The teams are judged on the design and maneuverability of their robots, the number of balls actually placed, and at what difficulty level they succeed.