Senior Reactor Operator Management Certificate Program Wins TACHE Award
March 28, 2017 | | Staff Spotlight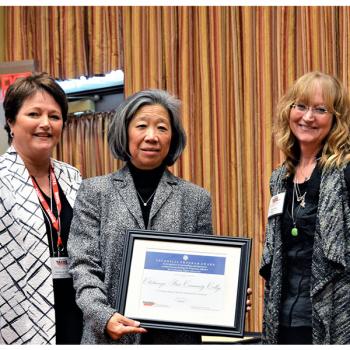 Chattanooga State's Senior Reactor Operator (SRO) Management Certificate program received the Tennessee Association of Continuing Higher Education Technical Program Award.  The award recognized college's partnership with Tennessee Valley Authority (TVA) on a rigorous curriculum supporting leadership development, successful implementation and outcome. This award recognizes an individual or institution demonstrating outstanding and/or innovative non-credit programming.
The program, in collaboration with TVA, selects and trains students on nuclear operations. The 20-week / 800-hour schedule is taught by Nuclear Engineering Technology faculty members from ChattState's Engineering and Information Technologies Division and contractors with years of nuclear operation knowledge and experience. The first program took place at Chattanooga State's main campus and at the Sequoyah Nuclear Plant where students were given the opportunity to have hands-on experience with the plant's nuclear operation simulator. Certificates were given to 19 future leaders of TVA nuclear operations on October 16, 2015.
The second training was held at the Browns Ferry Nuclear Plant near Athens, Alabama. Eleven engineers, scientists, and managers were selected by TVA to participate in the program from April to September 2016.
Students said after the program that they were well prepared for a future job due to an increase in their knowledge and skills. Topics covered during the course included nuclear power fundamentals, applied reactor theory, power generation and distribution, emergency operating procedure, and more.
Proposals to continue the program during the 2017 year have been submitted for both locations.
For more information, contact Lulu Copeland, Executive Director, Economic and Workforce Development at 423-697-3212 or Lulu.copeland@chattanoogastate.edu