Golden Named TCCAA Coach of the Year
May 25, 2017 | | Staff Spotlight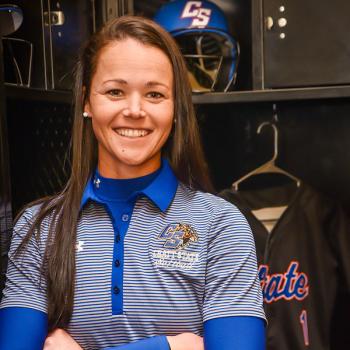 Chattanooga State's head softball coach, Blythe Golden, was named Coach of the Year by the Tennessee Community College Athletic Association (TCCAA). This past softball season marks the third consecutive appearance by the Lady Tigers in the championship tournament.
"Being awarded TCCAA Coach of the Year was truly an honor and something of which I am very proud. Anytime I receive an honor such as this I take a step back to reflect on why and how I was able to receive this award," reflects Golden. Blythe's philosophy is not only to coach, but also teach, mentor, and motivate with the hope that the team grows and flourishes. "Our team is the reason why I was recognized and received this honor," states Golden. "While the coaching staff works hard to lay the groundwork, it is the girls that are solely responsible for putting this into action," she adds.
Golden gives credit to assistant coaches Jackie Baird, Brandon Carr, and Jamie Carr for giving up so much of their time to not only make their job easier but to give players the best experience possible. "I firmly believe that you are only as good as the people you surround yourself with and I am very lucky to have a coaching staff, college support system, and players as good as ours here at Chattanooga State ... thank you to everyone that has contributed in any way to make our program what it is today. I look forward to many more years of success at Chattanooga State," says Golden.
Following stellar academic and softball careers at Gulf Coast State College and Stetson University where she earned her BA in sports management, Golden served as an assistant coach at Gulf Coast State College before making her debut as head coach at Chattanooga State Community College. While at Gulf Coast, she earned her MS in Kinesiology in 2011 with an emphasis in coaching from Texas Women's University fulfilling the requirements of the National Fast Pitch Coaches College and earning a 4-star master coach ranking by the NFCA.
Chattanooga State Athletic Director Joe Helseth says that Blythe's talents have secured her team three trips to the NJCAA Division I tournament in Utah during the last five years.
"Coach Golden provides leadership for students on and off the field of play by developing their self-discipline, sound judgment, and respect. She leads her team with a strong appreciation for team success and strict adherence to fair play and sportsmanship. As a vital member of the Chattanooga State Athletic Department and our campus, Blythe serves as a role model for her student-athletes and provides community support for youth and young adult softball programs."