Evans Named APCA National Advisor of the Year
May 9, 2017 | | Staff Spotlight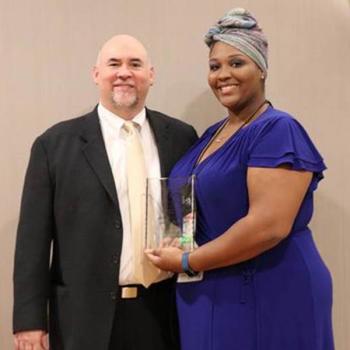 Activities Programming Board advisor Delnita Evans was presented with the 2017 Ernest C. Jones National Advisor of the Year award from Eric Lambert, Executive Director the Association for the Promotion of Campus Activities (APCA).
Prior to her graduation in 2011, Delnita was already heavily involved with student activities, serving as president to the Activities Programming Board (APB) in 2010-2011. In addition, she served as a ChattState "Jo," promoting the college to potential and current students during special events. In 2013 she began working in the Student Life Department and became a co-advisor to APB.
APCA is a national campus events and educational training organization founded in 1994 to serve campus event needs of all Campus Departments throughout the United States. Its mission is to promote campus engagement through quality educational experiences, affordable entertainment and community service initiatives.
During the most recent APCA conference, more than 60 colleges were represented and more than 115 advisors were nominated. "Delnita has been a great asset to Chattanooga State. She passionately commits to serving the community," states Student Life Director Dedric Maffett.