Zink Twice Named First Tennessee Chair of Excellence
October 1, 2018 | | Internal Press Release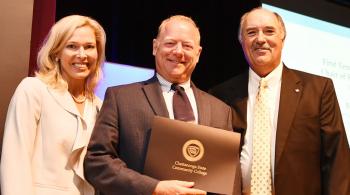 Dan Zink, director of the Hospitality & Tourism Management program at Chattanooga State, was named the 2018-2019 First Tennessee Chair of Excellence for the second year in a row. 
"Dan employs an innovative teaching style with his students. In addition to teaching five classes per semester, Dan leads in community service and serves on a number of advisory boards including the Greater Chattanooga Hospitality Association, the Hospitality & Tourism Management program at the Howard School, and Cleveland's association," said Bobby Lusk, senior vice president of First Tennessee.
The First Tennessee Endowed Chair of Excellence in Business was established through the Chattanooga State Foundation for the purpose of recognizing a distinguished faculty member within the Business Division.
 "The Chattanooga State Foundation is thankful to First Tennessee for investing in outstanding faculty who contribute to excellence in business education," stated Nancy Patterson, vice president of College Advancement and Public Relations.