Yamaha Donates Outboard Engine to Chattanooga State TCAT
April 5, 2021 | Betty A. Proctor | Internal Press Release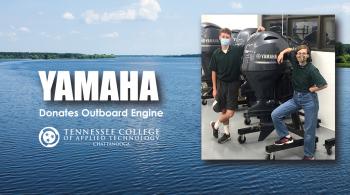 Yamaha Motor Corporation has generously donated a 115-horsepower outboard engine to Chattanooga State's Motorcycle and Marine Service Program. This is just one of the many donations given to the program over the years. The Motorcycle and Marine Service program officially became a Yamaha Tech School Partner in the Fall of 2016. "The partnership with Yamaha has been a wonderful experience for students and focuses specifically on getting marine technicians prepared for the workplace through hands-on training," said Ed Grun, senior program instructor. "This gives students an edge especially if they are seeking employment with Yamaha marine dealerships upon graduation."
Yamaha, while always a great supporter of the program here in Chattanooga, has really stepped up and taken the lead in support of marine technical training programs all across our nation. "The team at Yamaha really has a desire to get students interested, trained, and placed in a thriving career in marine service," stated Mr. Grun.
Yamaha Marine's Technical School Partnerships (TSP) recently reached a 100-member status in October 2020. The goal of the TSP program is to develop a stronger marine technician workforce through a certified curriculum.
To find out more about Chattanooga State's Motorcycle and Marine Service Program visit chattanoogastate.edu/motorcycle-and-marine-services.