Veterans Luncheon Welcomes 87
November 14, 2018 | | Internal Press Release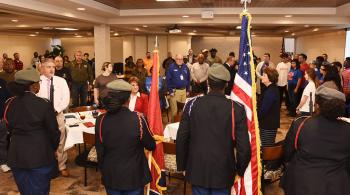 In observance of Veterans Day, Chattanooga State Community College honored 87 veteran students, faculty and staff with a luncheon in gratitude for their service to our country on November 12.
At the end of World War I, Armistice Day was commemorated on November 11, 1918, at the eleventh hour on the eleventh day of the eleventh month. 2018 marks the 100-year anniversary of this historic event. Known as Veterans Day in the United States, the day honors American veterans, both living and dead.
Colors were presented by the ROTC unit from Central High School, followed by a performance of the National Anthem by the ChattState Concert Choir.
Troy Garcia, ChattState Veterans Cub president welcomed attendees and thanked veterans for their service before introducing Chris Lawrence, a current student, and veteran, majoring in Early Childhood Education. Lawrence, a retired CID Special Agent from the U.S. Army, spoke about his own personal trials and provided some encouraging words about living and enjoying life after the military. 
Brief remarks were made by Michelle Olson, director of educational outreach programs just prior to lunch being served.
Chattanooga State is a certified Vet-Friendly Campus. For more information about available veteran services, TN Reconnect options, or to enroll in classes, please contact Renee Kennebrew, veterans coordinator at (423) 697-2509 or visit https://www.chattanoogastate.edu/student-support/outreach-programs/veter....