Unum Partners with Chattanooga State to Expand Tutoring Support
July 14, 2021 | Betty A. Proctor | Internal Press Release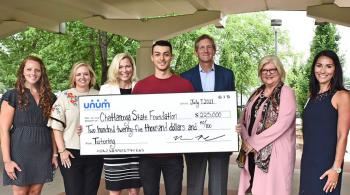 Chattanooga State's Lucky 7 Celebration, a monthly event celebrating in the upcoming premiere of its 7-week classes on August 16, took a decidedly "lucky" turn on July 7 for students, faculty, staff and Chattanooga State's tutoring program when community partners at Unum presented the college with a check for $225,000 to expand Chattanooga State's tutoring services, "offered to any and every student free of charge," shared Dr. Rebecca Ashford, Chattanooga State president.
"Abundant evidence points to the dramatic and positive impact that a 7-week class schedule has on student success," stated Dr. Beth Norton, vice president of Academic Affairs. "Evidence also shows that students who take advantage of tutoring experience higher grades and improved graduation rates." Recent studies found that tutored students outperformed students in both retention and graduation rates than those students who had not who had participated in a tutoring experience. One of those students is Mark Monterosso.
As a 2014 high school graduate, Mr. Monterosso experienced difficulties with math that led him to put off furthering his education. Following a tour of duty in the Air Force, he enrolled at ChattState in 2019. "I did not do well on my math placement test, but I stuck with it and anytime I needed help I would visit the Math Center," noted Mark. When Mark was in Pre-Cal Algebra that fall, he had forgotten a lot of the basics and despite homework help was apprehensive about his first quiz or failing the class. Harnessing his fear only made Mark more determined to conquer it. After logging in 15 hours of tutoring assistance in the Math Center the week before the quiz, Mark reported that he did very well on the quiz, the test and ended up making an A in the class.
Mark also did very well in subsequent classes. "I wouldn't expect to be here if it wasn't for them–a big reason why I succeeded is due to in-person tutoring." He has since transferred to the University of Tennessee, Knoxville to complete his Bachelor of Science degree in computer science, but when required to take Calculus 2, Mark headed back to ChattState to take the class because of the help he knew he could count on from his tutoring experience. "I learned the value of tutoring and think I continue to do well in my math classes because the staff are willing to help you out," stated Mark. "I am very grateful and just wanted to say thank you for this help."
"We at Unum are very proud to partner with the college to help increase tutors to serve and support more students like Mark," commented Tom White, a Regent with TBR-The College System of Tennessee, a Chattanooga State Foundation board member, and the Senior Vice President of Investor Relations at Unum.
Expressing his gratitude that Chattanooga State provides not only professional tutors but peer-to-peer tutors as a powerful way to reduce the stigma that can sometimes be associated with tutoring, Mr. White noted that students assisting other students helps the learner better relate to the peer tutor and to realize that asking for help leads to a positive experience.
Chattanooga State students also have free access to Tutor.com for 24/7 learning support, but beyond the academic support that tutoring provides, tutors often refer students to a variety of support services on campus, such as the Tiger Cupboard food pantry or the school's Helping Hands fund.   
"Unum is proud to partner with Chattanooga State and invest $225,000 to support expanded tutoring to help more students at Chattanooga State improve their grades, complete their degrees and achieve their dreams," stated Mr. White.