TN Reconnect Virtual Info Sessions Open to All
May 1, 2020 | Betty A. Proctor | Internal Press Release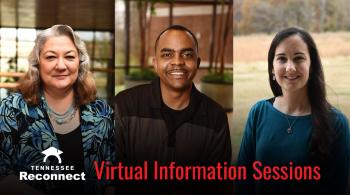 Thursday, May 14 @ 5 p.m.Thursday, May 14 @ 5 p.m.• Monday, May 11 @ 2 p.m.If you are an adult who did not attend, or did not complete, a college degree because of family obligations, cost, low grades, or simply because you did not really know what you wanted to do, Tennessee Reconnect might be for you.
Chattanooga State Community College offers Tennessee Reconnect Virtual Information Sessions several times each week, so you can choose the best time to attend – all from the safety and comfort of your own home. The Tennessee Reconnect Scholarship is a last-dollar scholarship that will allow all Tennessee adults who qualify to attend an eligible institution free of tuition and mandatory fees. Any Tennessee resident can apply.
Reservations for Tennessee Reconnect Virtual Information Sessions can be made at chattanoogastate.edu/tnreconnect for any of the following dates:
Monday, May 4 @ 2 p.m.
Thursday, May 7 @ 5 p.m.
Saturday, May 9 @ 10 a.m.
Monday, May 11 @ 2 p.m.
Thursday, May 14 @ 5 p.m.
Saturday, May 16 @ 10 a.m.
Marsha Barker, director of Adult Services, conducts the sessions that include how to apply for TN Reconnect, FAFSA, and to Chattanooga State, eligibility requirements, covered costs, and how to access Adult Student Success Stories for inspiration.
 "After 42 years and thanks to the Reconnect Program, I'm back in school and having the time of my life learning all about television production, radio broadcasting, and more, as I'm finally working towards my degree," shared Donna Pickering, 62, digital and media production major.
"I started to think about returning to college, but there were factors that had prohibited me from returning in the past. The Chattanooga State Kimball Site is close to where I live and work and the number of available online classes had increased. Worried about tuition, I did not want to rack up student debt to go back to college. I heard about Tennessee Reconnect and learned that I might qualify for tuition costs to be paid. I checked into it, and I did qualify. Now, all the reasons those once kept me from returning to classes were gone. I decided to get past my fear of failure and go for it," said Misty May, 38, business administration transfer/accounting major.
 "My wife fractured her hip, needed a total hip replacement and would be out of work indefinitely. Her job was our main source of income and we had just purchased a home, among other things. We went through nearly two years of great financial struggle. I vowed that my lack of education would never hinder me from being able to successfully provide for my family again. Finding Tennessee Reconnect seemed like it was streamlined just for me. The hardest part was taking the first step. Now, I maintain a 3.6 GPA while working full-time and taking care of my family," stated Demarquis Perkins, 35, engineering technology major.
Tennessee Reconnect students continue to receive outstanding support from the Adult Services program throughout their academic journey. "Join me for a TN Reconnect Info Session via WebEx to learn more about the last-dollar scholarship for adults to earn an associate degree free of tuition and mandatory fees," invites Ms. Barker. Chattanooga State wants you to know that We Are With You!