TN Reconnect Puts a College Education Within Your Reach
June 29, 2020 | Betty A. Proctor | Internal Press Release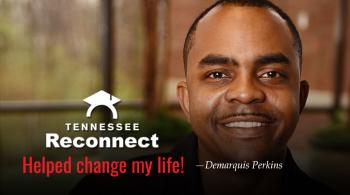 Since its introduction in 2018, more than 1,000 Chattanooga State students have taken advantage of tuition-free savings using the Tennessee Reconnect scholarship to fulfill their dream of earning a college degree, diploma, or certification. The majority of these students are 24 or older, and many have overcome financial obstacles thanks to the support that Reconnect provides.
Individuals must first apply for the PELL grant, but if you do not qualify for PELL, or if you only qualify for a partial PELL grant, Reconnect, as a last-dollar scholarship, will pick up the rest of the cost so that 100% of your tuition and fees are paid for up to five years. Also, TN Reconnect has no income limit.
Virtual and In-Person Information Sessions about Tennessee Reconnect are available several times each week so you can choose the best time to attend. Reservations to attend an information session can be made at chattanoogastate.edu/tnreconnect.
Mondays, July 6 and 13 @ 2 p.m. via Webex online
Wednesdays, July 8 and 15 @ 5 p.m. via Webex online
Thursdays, July 9 and 16 @ 5:30 p.m. in-person in Room C-30, CAT Building
Saturdays, July 11 and 18 @ 10 a.m. via Webex online
Sessions last approximately 45-minutes and provide information about how to apply for FAFSA, TN Reconnect, and to Chattanooga State. Learn about eligibility requirements, covered costs, and how to access Adult Student Success Stories for inspiration.
"When my wife received an amazing job offer, we moved to Tennessee and I worked two jobs to help make ends meet for our family," shared Demarquis Perkins, 35, engineering technology major. "But, when she fractured her hip requiring a total hip replacement, she was out of work indefinitely. After two years of great financial struggle, I was motivated never to let my lack of education keep me from providing for my family. After doing some research, I found out about TN Reconnect and it helped change my life."
With only nine weeks remaining before fall classes start on August 24, now is the ideal time to discover that a college education IS within your reach through TN Reconnect.