TN Reconnect Postcard Inspires "Light Bulb" Moment
August 3, 2020 | Betty A. Proctor | Internal Press Release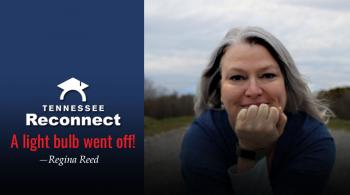 Since Tennessee Reconnect began in 2018, more than 1,000 adult students have taken that first step to a new life, allowing education to be their guiding path. The TN Reconnect scholarship is really for any qualified student, but is mainly used by adults 24 years of age and older.
Regina Reed, 48, let her educational opportunity pass when she married, became a mother and worked part-time; it was just too difficult to manage school with her busy life, so she rarely thought about where she might be if she had a degree.
All of that changed when Regina began working full-time and found that promotions always seemed to be given to others with degrees, even if she was qualified. After missing yet another opportunity for advancement, she felt defeated and angry, but in the day's mail was just the ticket she needed — a postcard with an invitation to attend a Tennessee Reconnect information session, which she and her husband both decided to attend.
Adult Services Director Marsha Barker offered this resonating comment to attendees, "You think about the time it takes to get a degree, and that it takes so long. The time is going to pass, regardless. Why not have something to show for it?" It was then that Regina experienced her "light bulb" moment, and knew she was headed back to college, and to her surprise, her husband also made the decision to return to school as well.
It's never too late to earn that degree, certificate of diploma you always wanted. Find out more today by registering for a Tennessee Reconnect Information Session at chattanoogastate.edu/tnreconnect. Upcoming sessions are offered in-person and virtually.
Wednesday, August 5 @ 5 p.m. in-person in Room C-30, CAT Building
Monday, August 10 @ 2 p.m. via Webex
Tuesdays, August 11 @ 6 p.m. via Webex
Wednesday, August 12 @ 5 p.m. in-person in Room C-30, CAT Building
Thursday, August 13 @ 5:30 p.m. via Webex
Friday, August 14 @ 10 a.m. via Webex
Saturdays, August 15 @ 11 a.m. via Webex
For more information, call the Student Support Center at (423) 697-4483.