THEC Selects Drake for Inaugural Cohort Class
November 12, 2019 | Betty Proctor | Internal Press Release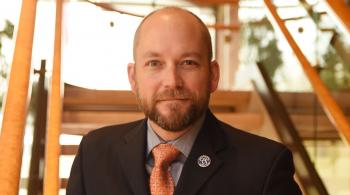 Bo Drake, Chattanooga State's vice president of Economic and Workforce Development, was one of 15 individuals selected to the inaugural class of Tennessee's Higher Education Leadership and Innovation Fellows program by the Tennessee Higher Education Commission (THEC). "This cohort-based professional development program is designed to develop the next generation of enterprise leaders in higher education," says Jessica Powers, THEC communications director. 
Nominated by Chattanooga State President, Dr. Rebecca Ashford, Drake views being selected as an honor to represent Chattanooga State and the southeast Tennessee region. "I believe everything we do in higher education is workforce development," states Drake. "This program will help me gain a greater understanding of higher education from the inside out by providing the opportunity to grow and expand my professional network throughout the state," he adds.
Drake is a lifelong learner who desires to improve daily by delving into his personal leadership style and examine his skills to learn how to improve and increase his effectiveness.
Program objectives will help facilitate leadership development, provide foundational principles of higher education, inspire ideas, encourage new ways of thinking and collaboration, and reproduce innovative practices.
"Creativity is one of my strongest assets," shares Drake. At Chattanooga State, Drake has been instrumental in introducing apprenticeship programs for the last year based on a program he developed at Ivy Tech Corporate College. His strategy is paying off as apprenticeships create opportunity and unlock potential, in addition to providing a strong employment retainment rate according to the Department of Labor.