Tech Goes Home Lends a Hand to Chattanooga State Students
March 26, 2020 | Betty A. Proctor | Internal Press Release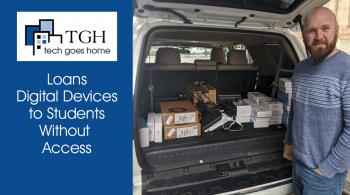 Tech Goes Home Chattanooga, a digital equity program of the Enterprise Center, partners with schools, churches, municipal sites, and other non-profits to host 15-hour digital literacy classes throughout Hamilton County. Following the collaborative partnership created between the Computer Information Technology Department (CIT) and Tech Goes Home last summer, Chattanooga State became a recent beneficiary of this program following the onset of the COVID-19 pandemic.
Chattanooga State took actions to help slow the spread of COVID-19 within the community. The College extended Spring Break an additional week, which allowed faculty and staff the opportunity to prepare for the monumental task of moving all classes online for the remainder of the semester. Several students voiced concerns indicating they did not have access to digital devices.
Chattanooga State reached out to Sammy Lowdermilk at Tech Goes Home, and he offered a solution to address computer inaccessibility facing students without devices. Tech Goes Home loaned a limited number of devices and tablets to the College so that students could continue their studies from home without losing valuable time and class credit.
Since 2015, Tech Goes Home has served more than 4,500 people and distributed almost 3,000 devices in Hamilton County. "We also try to educate the community about low-cost internet options and assist them with signing up families for these programs," shares Lowdermilk.
In addition to partnering with CIT, Tech Goes Home works with Chattanooga State's Building Outstanding Service Scholars program (BOSS) and the Economic Workforce Development division to provide digital skills training programs. For more information about the Tech Goes Home program, visit www.techgoeshomecha.org.