TCAT Chattanooga Father and Son Duo Put Their Certifications to Work
July 24, 2020 | Betty A. Proctor | Internal Press Release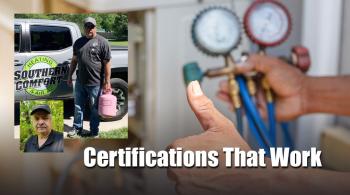 Kevin Powell worked in the auto body industry for a dozen years following his graduation from Chattanooga State's collision repair program in 2000. "It was great, but when my dad lost his job because his company was sold, and he wasn't ready to retire, he and I decided to enroll in ChattState's HVAC/R evening program together," states Kevin, who was interested in having more control over his future. The choice was a perfect fit and the result was opening a local and family-owned business, Southern Comfort Heating and Air, LLC, which serves the Chattanooga and North Georgia area.
"Currently, the HVAC/R program enjoys a 100% job placement rate with entry-level pay of up to $46K," states Houston Graham, evening instructor, HVAC/R technician program. He goes on to say that his students learn all the basics of HVAC/R and that upon completion; they are well suited to perform all the functions of residential service technicians. "After one- to two years as a residential technician they are prepared to move on to become commercial service technicians if that is their goal. Some of our students go on to open their own HVAC/R service companies, just as Kevin and John Powell did," adds Mr. Graham.
Kevin says that having Houston Graham as their instructor was one of the best parts of the program. "The education and support he provides are second to none. It's hard to work eight hours a day then sit in class for seven hours. But, to have someone like Houston to motivate and teach you what you need to know to reach your goals tells you what a great program it is," explains Kevin.
Continuing to work full-time while attending class full-time often leads to an exhausting 15-hour-plus day. "Since we were in the evening program, the lack of food services available to TCAT students at that time of the day was a problem," remembers Kevin. To help address that concern, Mr. Graham noted that John Powell worked with the Student Government Association and was instrumental in arranging for evening food service hours in the CETAS cafeteria. In addition, John also made the case to have TCAT graduation ceremonies moved to a Saturday from a Thursday, so that family and friends could join the celebration.
Kevin and John inspired both Mr. Graham and members of their class. "They came with the attitude to learn all they could to be able to open their own company, and they succeeded," says Graham proudly. "In addition, when they struggled to understand something in class, Kevin would work one-on-one with his dad and other students, while they both encouraged each other and their peers throughout the program."
The HVAC/R program is available on the main campus and will be taught in a hybrid format (in-class and online combination) this fall. Students interested in HVAC/R have a choice of registering for the day program (7:45 a.m. to 2:30 p.m.) or the evening program (4 p.m. to 10:45 p.m.). For more information, call (423) 697-4433, or visit chattanoogastate.edu/hvacr-technician.