Spanish Club Distributes 3,236 Food Items
December 14, 2018 | | Internal Press Release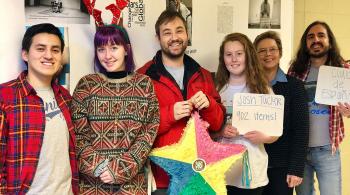 At Chattanooga State Community College, the Thanksgiving season means sharing with others who have less. Students, faculty, and staff eagerly await the annual food drive that benefits LaPaz, Chattanooga's leading Hispanic and Latino organization in Southeast Tennessee, and the Tiger Food Pantry at ChattState to help students who experience food insecurity.
A record-breaking total of 3,236 food items were collected and divided between LaPaz, who received 62 boxes totaling 2,289 items, and the Tiger Food Pantry that received 947 items.
While savoring the good feeling that comes from helping others, catering to one's competitive side also helps make the entire project a little more exciting. "Some of my colleagues in the Humanities & Fine Arts building were in stiff competition for the piñata prize, so they had piles of donations in front of their offices," remarked Spanish Club advisor Dr. Katheryn Thompson.
Filled with candy and goodies, the coveted "Piñata Prize" is awarded to the individual or team that collects the most items. This year it was presented to Assistant Professor Josh Tucker for collecting 902 items. Tucker and friends bested last year's winner, Assistant Professor Rachael Falu, by 120 items. 
Donors this year included individuals who spearheaded giving, as well as department and division members: Katheryn Thompson, Rachael Falu, Terry Breetzke, Nick Mansito, Mindy Griffin, Joh Tucker, Student Support Center, Social & Behavioral Sciences, Regional Health programs, Michele McCarthy, Monika Prestwood, Juan Alonso, e-Portfolio Lab, Student Services, Rex Knowles, Kolwyck Library, Ann Nicodemi, Center for Engineering, Technology, Arts & Sciences; Math & Sciences, Global Scholars, Institutional Development, and the Volleyball team.