SouthEast Bank Donates $7K to Helping Hands Fund
March 25, 2020 | Betty A. Proctor | Internal Press Release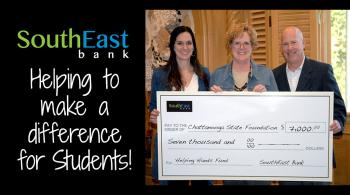 In Spring 2018, Chattanooga State Community College established its Helping Hands Fund through the Chattanooga State Foundation, which assists students experiencing a crisis when unforeseen financial emergencies occur that often prevent students from staying in school and graduating.  
Intrigued by this way to help students in need, SouthEast Bank chose to donate $7,000 to the fund through the Chattanooga State Foundation, thereby helping dozens of students that experience emergencies and who might otherwise be forced to drop out of school.
"We have a long-standing commitment of supporting higher education in the markets we serve and the Helping Hands Fund is an unconventional, but brilliant way, to do just that," states Ron Jones, SouthEast Bank city president for the Chattanooga area. "Chattanooga State and the Helping Hands Fund are making a difference in the health and welfare of their students and, from a larger perspective, Chattanooga," he adds.
During this uncertain time of COVID-19, a fund such as Helping Hands can make all the difference to struggling students.
"The Student Support Center provides free personal counseling and refers students in need to additional resources, including support through the Chattanooga State Foundation's Helping Hands Fund," according to Michelle Kilgore, director of the Student Support Center. "Thanks to generous contributors like SouthEast Bank, we are able to assist students and their families with emergency financial resources made to a third party on behalf of a student in need for things like rent, minor car repairs, utilities, and other unmet needs."
For more information about supporting the Helping Hands Fund or other giving opportunities, contact Director of Development Tammy Sawyers at (423) 697-3359 or email tammy.sawyers@chattanoogastate.edu.