Sockwell Gifts ChattState Respiratory Care Graduates
June 16, 2021 | Betty A. Proctor | Internal Press Release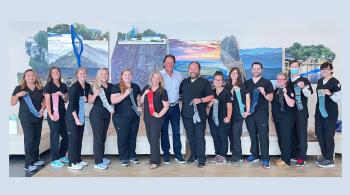 Pride in the accomplishments of her students prompted Chattanooga State's Candy Spurling to contact a local company about helping to make the future long hours more comfortable for her graduating students once they begin work as respiratory therapists.
The Respiratory Care program at Chattanooga State is an advanced practitioner program preparing students to become Registered Respiratory Therapists (RRT). As an important part of the health care team, RRTs work under the direction of a physician and with patients of every age who suffer with breathing problems. Patients may need to receive oxygen or breathing medications and treatments, while other patients who can't breathe well enough on their own are placed on mechanical ventilators, which are monitored and operated by therapists in intensive care units.
"Because respiratory therapy is often overshadowed by other bedside practitioners even though we are at the front of the frontline in healthcare, I reached out to the Sockwell company about their compression socks," explained Candy Spurling, respiratory care instructor.
"When Ms. Spurling mentioned that respiratory care profession does a lot of behind-the-scenes work, we knew we wanted to do something for them and give the students the recognition they deserve," stated Jim Markley, a partner at Sockwell. Not only did Markley arrange for gifts, he made the presentation in person to thank the students for their hard work and dedication in serving others.
Each student received a pair of Lifestyle Compression, Sport Compression, and Essential Comfort socks. Made in the USA, Sockwell socks use a super-soft merino wool blend that helps regulate temperature, keep feet dry and free from odor and blisters. The graduated Lifestyle Compression socks are favorites of the healthcare profession because they minimize swelling and offer support with every step.
This isn't the first time that Sockwell has honored healthcare heroes. In the midst of the pandemic, Sockwell established their Honor Our Heroes program and generously donated more than 500 pairs of socks to healthcare workers. An Honor Our Heroes Circulator special edition sock was designed as a tribute to nurses, doctors and healthcare staff. Humbled by the response to this project, Sockwell again chose to commemorate healthcare heroes in 2021.
"We had a wonderful time meeting the graduating Respiratory Care students at Chattanooga State," noted Markley. "They are the future of healthcare, and we are incredibly thankful for all they have done and will do going forward. Congrats, grads!"