Record-Breaking Number of National Medals Awarded to Chattanooga State TCAT
July 12, 2019 | | Internal Press Release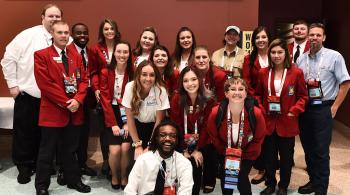 Chattanooga State's Tennessee College of Applied Technology (TCAT) division was well represented at the SkillsUSA National Leadership and Skills Conference in Louisville, Kentucky where a record number of medals were awarded. 
The theme for SkillsUSA this year was 'Career-Ready Starts Here.' "Our chapter strives to ready students for their careers as soon as they leave our technical programs," shares lead chapter advisor Mike Mercer. By attending national leadership conferences and competitions, Chattanooga State students gain invaluable personal, technical, and workplace skills that will set them apart from other graduates. 
"I'm thankful to TCAT Chattanooga Executive Vice President, Dr. Jim Barrott, for investing valuable time and resources into SkillsUSA and our outstanding students. Winning national medals and awards is amazing, but seeing student's lives changed by developing life-long skills is even more rewarding. The opportunities that SkillsUSA provides to our students is instrumental in training them to become career-ready now!" added Mercer.
ChattState TCAT students competed in 20 events and earned a medal in 10 of the events, bringing home a gold, two silver and seven bronze medals for their efforts. Additionally, 29 of the 30 students who competed, finished in the top 10 in their respective contests, which is a tribute to the hard work and dedication of the students and their advisors. 
"Chattanooga State would like to congratulate the competitors, faculty advisors and the lead chapter advisors – Michael Mercer and Elonia James – for their success against great competition and earning a record-breaking number of national medals for the Chattanooga State TCAT," said Dr. Mike Ricketts, TCAT dean.
Winning medalists and their advisors included:
Gold Medal Winner
Medical Terminology - Carly Steinbacher
Advisor: Nancy Draper
Silver Medal Winners
Employment Application Process - Racquel Harrison
Advisor: Diane Jackson
Nurse Assisting - Laquinta Gonzalez
Advisor: Jewell Kyle
Bronze Medal Winners
Career Pathways Showcase - Arts & Communication - Kimberly Driscoll, Diamone Fitten, Cherylmaine Stanley
Advisor: Diane Jackson
Career Pathways Showcase - Business, Management, Technology - Andrew James-Catalano, Sam Swenson, Brandon Tallent
Advisor: Mike Mercer
Career Pathways Showcase - Health Services - Cheyenne Hixson, Abby Pollock, Tracy Whited
Advisor: Cynthia Rutledge
Job Interview - Amy Griffith
Advisor: Elonia James
Power Equipment Technology - Kyle Willard
Advisor: Ed Grun
Prepared Speech - Lydia Reed
Advisor: Diane Jackson
Promotional Bulletin Board - Hope LaFerry, Mady Lewis, Marissa Roberson
Advisor: Elonia James
Newly elected SkillsUSA officer Lance Myers is eager to have the opportunity to help change lives for the better through advocacy. "To be able to help reach the youth of our nation and show them that a technical diploma/degree is just as important than a 4-year degree is amazing. I hope to help change the stigma about technical education and let everyone know that we are here and making a difference," shared Myers.
"By participating in SkillsUSA, our students demonstrate their preparedness for the workforce and the quality of the education they have received. Chattanooga State is extremely proud of our students and the faculty who prepared them," stated Chattanooga State President Dr. Rebecca Ashford.
For more information about award-winning programs and faculty, call (423) 697-4433 or visit https://www.chattanoogastate.edu/tcat/