Radiation Protection Students Complete HAZWOPER Training
July 9, 2021 | Samantha Travis | Internal Press Release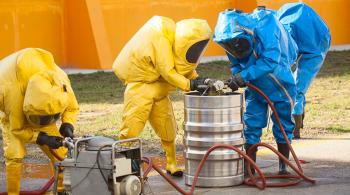 Chattanooga State Community College offers an Associate Degree of Applied Science in Engineering Technology with a concentration in Radiation Protection. There has been an increase in demand for radiological control technicians. This need will grow over the next few years regionally and nationally, with companies in Oak Ridge, TN, as well as Savannah River Site and across the nation to New Mexico at Los Alamos National Laboratory.
In the past few years Chattanooga State graduates have taken career offers ranging from Oak Ridge, TN to Los Alamos, NM. In addition to recruitment from Los Alamos National Laboratory, Chattanooga State will be a top recruiting school for future work at Savannah River Site that borders South Carolina and Georgia.
Currently, Chattanooga State Radiation Protection graduates are completing an internship at TVA through BHI Energy, where they have successfully completed the Fundamentals of Radiation Safety and Protection exam for junior health physics (radiation protection) technicians. Health Physics/Radiation Protection Technicians make a median salary of $61,900 reported by O*Net for 2020.
A week before the graduate's internship began, they were able to complete HAZWOPER training at Chattanooga State coordinated by Samantha Travis, RCNET Coordinator in the Engineering and Information Technologies Division and Carly Hixson, Program Coordinator in Economic and Workforce Development. This training will result in an additional certification needed in the radiological workforce giving them more opportunities in their field.
For more information about a degree in Radiation Protection, please email Samantha.Travis@ChattanoogaState.edu. If you are interested in attending or would like for your employees to attend HAZWOPER training in the future, please contact Carly.Hixson@ChattanoogaState.edu.