Pink Out Volleyball Match to Benefit Mary Ellen Locher Scholarship
September 27, 2019 | Betty A. Proctor | Internal Press Release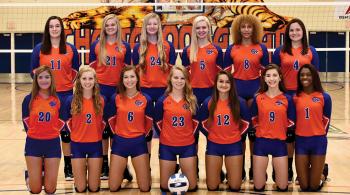 The Chattanooga State's women's volleyball team will take on the Bryan College team at 6 p.m. on Monday, September 30 at home for a "Pink Out Match." Proceeds will go to the Mary Ellen Locher Scholarship Foundation (MEL). Donations will be taken at the door and no admission fee will be charged for this special night. The first 50 individuals to come through the door will receive a free "Pink Out" t-shirt.
At approximately 6 p.m., the ceremony will begin with the Bryan College team lined up on one end line and the ChattState team lined up on the other one. Each team member is playing either in memory of, or in honor of, someone they know who has had breast cancer. As each player is introduced, the name of who they are playing for will be announced. Players will carry a pink carnation and if their person is in attendance, they will present that carnation to them. If their person is not in attendance, or no longer with us, they will place their carnation in a basket located at center court. Following the ceremony, Cindy Pare from the MEL Foundation will explain what the scholarship foundation is and how it works.
This event is open to the public at no charge. For more information, contact ChattState volleyball coaches Janet Tate or Robin Moore at (423) 697-4426.