Nursing Schools Almanac Ranks Chattanooga State RN Program #1
June 9, 2020 | Betty A. Proctor | Internal Press Release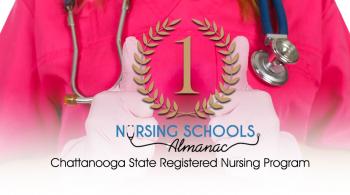 Nursing Schools Almanac has ranked the Registered Nursing program at Chattanooga State Community College #1 on its list of best associate degrees in nursing (ADN) programs in Tennessee. There are more than 1,300 high-quality ADN programs across the county. Nursing Schools Almanac evaluate Institutions by academic prestige and perceived value, the breadth and depth of nursing programs offered, and student success, particularly on the NCLEX licensure examination.
"We are honored to be recognized as the top nursing program in the state by Nursing Schools Almanac," says Dr. Martina Harris, assistant dean of Nursing and Allied Health and Registered Nursing program director. "I attribute our success to the dedication of our faculty and staff and the brilliant nursing students graduating from our high-quality program."
The U.S. Bureau of Labor Statistics (BLS) states that there were more than 4M jobs in five nursing occupations in the United States. Registered Nurses may choose to work in hospitals; physician's offices, home health care agencies, nursing homes and outpatient care centers. Other career opportunities include government agencies, social assistance agencies and educational services. Registered nurses evaluate patients' health, provide and coordinate patient care, and educate patients about their health conditions.
Chattanooga State provides day, night and transition program options for students interested in a nursing career, and the program is well known for the high quality of its graduates. BLS statistics show that more than 63,000 registered nurses are employed within the state of Tennessee and that the expected growth rate through 2028 is much faster than average at 12%.
Students are encouraged to investigate financial aid assistance options through Tennessee Promise and Tennessee Reconnect. Both are last-dollar scholarships that are designed to help students cover expenses not met by PELL, HOPE, or TSAA. TN Promise and TN Reconnect cover mandatory tuition and fees only.
Applications for the Registered Nursing day class program in fall 2020 are now being accepted. For more information see https://www.chattanoogastate.edu/nursing-rn-aas-day-and-night-programs-baroness-erlanger-nursing-program-chattanooga-state. The night program begins its new cohort class in fall 2021.