Meeting the Challenge that Chattanooga State Provides
July 26, 2021 | Betty A. Proctor | Internal Press Release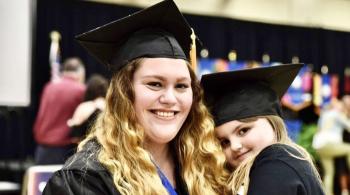 Rebecca Gilliam has come out ahead after experiencing both the TCAT technical side and College credit side of Chattanooga State Community College. Her first foray into the technical side happened when she became intrigued by her husband's welding skills, which he incidentally learned through the TCAT Welding Technology program. That spark encouraged her to enter the welding program herself, three months after giving birth to their daughter.
Following her graduation from TCAT in 2018, Rebecca wanted to further her career while she had the opportunity, so she then enrolled in Chattanooga State's Welding Engineering program on the credit side, completing the program in December 2019 as a 4.0 student and Global Scholar with memberships is Phi Theta Kappa, American Welding Society, and the American Society for Non-Destructive Testing (NDT). Stating that her advisor went out of her way to guide her down the right path, Rebecca said, "She encouraged me to be my best self. The more I studied, the more I wanted to push myself to learn everything possible."
In January 2020 and then 23, Rebecca embarked on her second degree in Non-Destructive Testing at Chattanooga State, but a COVID diagnosis caught her off-guard. "I couldn't come to class, got behind, and really discouraged," remembered Rebecca. As her inner strength resurfaced, she thought about her husband and daughter. To stay strong, Rebecca created the wording for her graduation cap as an inspiration, "I wanted to give up, but then I remembered who was watching."
"While balancing school, work, and family is a daunting task, Rebecca successfully completed two AAS degrees, Welding Engineering Technology and Non-destructive Testing Technology," commented Tracie Clifford, program lead, Non-Destructive Testing, QA/QC.
After receiving her NDT degree this past May, Ms. Gilliam is taking a little time off as she awaits the birth of her second child in a few weeks. Following that, Rebecca will be seeking employment in her field before she begins work on a bachelor's degree in Engineering Management. "These degrees will pave the way for a high-wage, high-demand career in a variety of local industries including utilities, automotive, chemical, construction or manufacturing," stated Ms. Clifford.
"Chattanooga State has given me the drive to 'never settle' and to always chase my dreams, and I am very grateful – thank you for opening so many doors for me!" expressed Ms. Gilliam.