McCarthy and Steele Named Erlanger Nursing Chairs of Excellence
September 27, 2018 | | Internal Press Release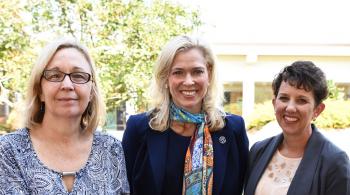 Two Chattanooga State Community College nursing faculty members were recently recognized as Erlanger Chairs of Excellence for 2018-2019. Assistant Professor Dawn Steele was named Erlanger Nursing Chair of Excellence for Children and Assistant Professor Michele McCarthy received her second consecutive recognition as Erlanger Nursing Chair of Excellence for Adults.
"Michele and Dawn go beyond their daily responsibilities and additional duties to support Erlanger, and they continue to provide an environment of patient safety and quality improvement," states Jan Keys, senior vice president, and chief nurse executive of Erlanger Health System.
The Erlanger Nursing Chairs of Excellence program was established by Erlanger through the Chattanooga State Foundation to recognize faculty excellence in nursing. Figures from the Registered Nursing Licensure Exam show that pass rates by Chattanooga State graduates on their first attempt are consistently higher than state and national figures. In 2018, nursing graduates scored 100 percent on their first attempt and over a ten-year period, have passed on the first attempt at 96.5 percent vs. 90.2 percent statewide and 87.1 percent nationally.
"The Chattanooga State Foundation is grateful to Erlanger for investing in our high-quality nursing program and making it possible to honor two outstanding faculty members who contribute to the success of our students," adds Nancy Patterson, vice president of College Advancement and Public Relations.