Massage Therapy Graduates Realize 100% Job Placement
March 16, 2020 | Betty A. Proctor | Internal Press Release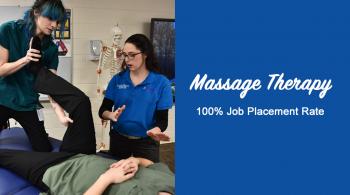 Making others feel good using therapeutic to relaxation modalities is something that graduates from Chattanooga State's Massage Therapy program truly enjoy. This Tennessee College of Applied Technology program is two semesters in length and provides graduates with the knowledge they need to begin their careers. The bonus is the ability to work independently or work for others. 
Stephanie Tate, a 2019 graduate of the program, said "When looking for a massage therapy program, I was initially looking for a good location that was closer to home, with a reasonable cost, and training within a trade that would give me job security." Meeting with instructors Renee Johnson and Tiffany Hammond sealed the deal for her. "I knew that I had found the right place. This program offered an integrated approach to learning. Not only would the curriculum train and prepare me for graduation, but the hands-on experience and out-of-class events and volunteer work would give me real world experience that I needed to be ready for work," she added. Even though Stephanie says the program was rigorous and "a lot of hard work," she feels that she is better massage therapist stepping into her field and ultimately a better person in life.
As a health care profession, the education of a massage therapist requires basic knowledge of anatomy, physiology, pathology, kinesiology, pharmacology, business, self-care, nutrition, hydrotherapy and many other related topics. With a median annual income of almost $40,000, the 8-month full-time massage therapy program is well worth the investment of time and money. The program boasts a 100% job placement rate.
Amailya Thomas, a currently enrolled Massage Therapy student, said that having the option of attending day or night classes is a plus for people who also work and have children. "I like that this is a reliable occupation that can go many different ways – it's a super reachable and achievable program," shared Thomas.
Students who worry about the affordability of the program should know that the Wilder-Naifeh Technical Skills Grant and the Tennessee Reconnect scholarship can help ease those fears.  Adults of any age and recent college graduates can qualify for Wilder-Naifeh and receive $2,000 per year to help offset the $4,000 program cost. Students who qualify for Tennessee Reconnect can expect additional financial help for tuition, general access fee, program services, and the technology fee. To find out more, see chattanoogastate.edu/tnreconnect or call (423) 697-3346.
Tiffanie Ledford, a Licensed Massage Therapist alum, shared that students will learn the technical medical information, techniques. and skills, walking away with a deeper understanding of oneself; more confident in "soft skills" such as compassion, active listening, personal communication, boundaries and other life skills that are essential to becoming a successful therapist. Now employed by a luxury boutique spa, Tiffanie was promoted to a massage therapy job coach in less than a year. "This is just the beginning of a vast array of opportunities that my education began to prepare me for. The TCAT Massage Therapy program provides a solid foundation of knowledge and hands-on training to build a successful career as an LMT," she stated.
Chattanooga State's Massage Therapy program is associated with the American Massage Therapy Association (AMTA), Associated Bodyworker & Massage Professionals (ABMP), and National Certification Board for Therapeutic Massage and Bodywork (NCBTMB). For more information about the program, call (423) 697-4433 or visit chattanoogastate.edu/massage-therapy.