Lin-Braddock Duo Residency and Concert Instilled Love of Classical Music
November 20, 2019 | Jeff Lemon | Internal Press Release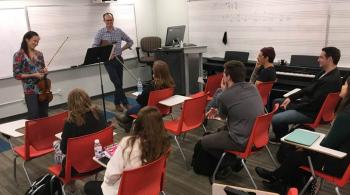 More than 300 students and community members recently participated in a residency and public concert by the Lin-Braddock Duo as part of Chattanooga State's Fine Arts Series. The project's goal was to host violinist Ching-Yi Lin and violist Andrew Braddock to conduct a 2-day residency, with one master class, a pedagogy workshop, demonstrations in music classes, and a public, evening performance at the Chattanooga State Humanities Theatre. Chattanooga State Fine Arts Department Head and Music Professor Dr. Ken Cardillo said, "The artists are well-respected performers and educators of college students in the early stages of their artistic development. This duo's visit was very important to Chattanooga State's students and to the community, as Chattanooga has very little access to notable performers who are also respected educators in their field."  
Dr. Cardillo further said one of the most life-changing events for Chattanooga State's music students, particularly those in the music appreciation classes is the opportunity to hear live performances from great artists. "Such experiences change the students' view of art and their receptivity to culture. Many of Chattanooga State's students are from communities where the arts are not celebrated in any depth, and young people are often discouraged from pursuing the arts as a viable career option," Ken Cardillo said. In order to create a holistic and diverse educational community, the College fosters a curiosity for creativity in the fine and performing arts.  In bringing the Lin-Braddock Duo to campus and to the community, students and the community were able to experience first-hand, celebrated musicians in their field and see artists who have a passion for teaching, as well as performing.
Violinist Ching-Yi Lin's recent performances and masterclasses have taken her to the Barratt Due Institute of Music in Norway, the Shenyang and Xi'an Conservatories in China, Northwestern University, Louisiana State University, and the University of British Columbia. She's also performed in New York on the Museum of Modern Art's Summer Garden Series and in Taiwan at the National Concert Hall in Taipei. Ching-Yi Lin is Associate Professor at Western Kentucky University and also serves on the faculty at the Indiana University Summer String Academy and the WKU Summer String Institute. 
Violist Andrew Braddock is also currently on the faculty of Western Kentucky University (WKU) and the WKU Pre-College Strings Program. He teaches viola at the university and maintains a full pre-college studio of young violinists and violists. Additionally, he serves as the Director of the WKU Summer String Institute. Andrew has given masterclasses throughout the United States and abroad, at institutions such as the Xi'an Conservatory (China), the Da'an School (Taiwan), Vanderbilt University, Indiana University Summer String Academy, and Oklahoma University. Andrew has performed in Israel, Austria, Indiana, New York, and Colorado. He is principal violist of the Paducah Symphony Orchestra, and he has been a member of the Evansville Philharmonic and Owensboro Symphony Orchestras.
The two-day residency and public concert took place on October 24 and 25 at Chattanooga State and was made possible through support from the Tennessee Arts Commission, the National Endowment for the Arts, and Chattanooga State Foundation's Lyndhurst Arts & Culture Fund.