Let TN Reconnect Help You Reach Your Goals at Chattanooga State
July 16, 2020 | Betty A. Proctor | Internal Press Release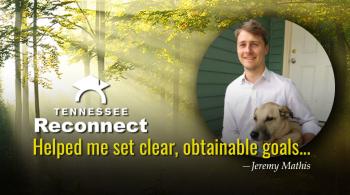 Perhaps your plans have changed, but your goals haven't. And, if you haven't heard about tuition-free degrees, certificates or diplomas using the Tennessee Reconnect scholarship for adults, here's your invitation to learn more. Chattanooga State offers more than 150 programs of study offered virtually, fully online or in a hybrid format that allow you to start the career of your dreams, and finish it within five years using the Tennessee Reconnect Scholarship.
Tennessee Reconnect Virtual and In-Person Information Sessions are available four times per week, lasting approximately 45 minutes, so you can choose the best time to attend.  Information session reservations can be made at chattanoogastate.edu/tnreconnect.
Mondays, July 20 and 27 @ 2 p.m. via Webex
Wednesdays, July 22 and 29 @ 5 p.m. in-person in Room C-30, CAT Building
Thursdays, July 23 and 30 @ 5:30 p.m. via Webex
Saturdays, July 25 and August 1 @ 11 a.m. via Webex
Sessions provide information about how to apply for FAFSA, TN Reconnect, and to Chattanooga State. Learn about eligibility requirements, covered costs, and how to access Adult Student Success Stories for inspiration.
"Being an adult student has its challenges. For me, a big one was just the anxiety of being so much older than my peers," states Jeremy Mathis, age 32. "However, after one semester, that feeling was gone, and I was happy to be back in an academic environment challenging myself. My previous college efforts were unfocused and half-hearted. As an adult student I have engaged more fully in my schoolwork and have set clear, attainable goals that keep me inspired." Jeremy calls the Reconnect program "incredibly user-friendly," and is grateful for the support and communication provided by the Adult Services staff. "I would encourage any adult student who is on the fence to take advantage of all the resources available, especially this one!"
Fall classes start August 24, register now for best class selection. Chattanooga State. Start here…go anywhere.