Julie Bennet Honored at Chattanooga State Kimball Site
September 7, 2021 | Betty A. Proctor | Internal Press Release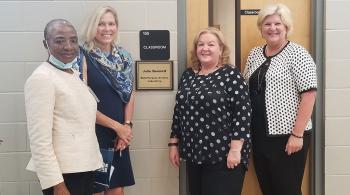 When Julie Bennett retired from Chattanooga State Community College in October 2020 after 36 years of service, it was without the usual fanfare. Working remotely, friends, colleagues and well-wishers attended a virtual retirement ceremony in her honor, but it was not quite the same as an in-person event. So, when a special room-naming ceremony in her honor was scheduled for August 30 at the Kimball Site, those same friends and colleagues finally got the chance to wish her well on her retirement, complete with real-live hugs.
Opening the ceremony was Dr. Mosunmola George-Taylor, associate vice president for Academic Affairs, who called on speakers David Jackson, Marion county mayor; Dr. Rebecca Ashford, Chattanooga State president; Dr. Beth Norton, vice president for Academic Affairs; and Patrick O'Hagan, newly appointed Regional Impact director for Marion County also serving as  Kimball Site director.
With the uptick in coronavirus numbers, Mayor Jackson said he was grateful for "the bright spot to make this day," as he recalled Julie's accomplishments for the education of Marion County residents.
"Julie was one of the first people I met when I came to Chattanooga State," said Dr. Ashford, "Her friendliness and passion for the students and citizens of Marion County was an inspiration and a real source of joy to anyone with whom she came in contact."
"My first impression of Julie was just amazing," recalled Dr. Norton, "she has a big smile with contagious energy and a real love of life." Because of the way she makes people feel, Dr. Norton said it made her understand why the Chattanooga State family is so fond of her. Ms. Bennett often took personal responsibility for her students to make sure their needs were met. "Even though you're not coming through that front door every day, the legacy you left here will live on forever," added Norton.
Recognizing his predecessor just prior to the room-naming, Patrick O'Hagan thanked Julie for everything she had done for individuals and the community, including he and his family as Marion County residents. Wrapping up the ceremony, Mr. O'Hagan looked directly at Julie as he said, "You've paved the road for us here at the Kimball site for what we have today. You are the true embodiment of what it means to be a compassionate and community-focused leader, touching countless lives, continuing to be a positive influence, inspiration and cheerleader."
Calling Ms. Bennett to the front, it was now her turn to view her place in history as she unveiled the plaque adorning Classroom 105: Julie Bennett, Multi-Purpose Science Laboratory.