Human Trafficking: The Invisible Slavery
October 24, 2018 | | Internal Press Release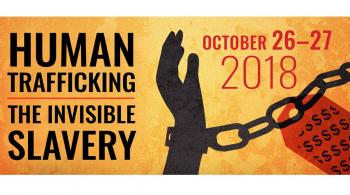 The Humanities and Fine Arts Division of Chattanooga State Community College will present Human Trafficking: The Invisible Slavery, a conference to educate the audience, campus and the wider community about human trafficking in the Chattanooga region on October 26 and 27, 2018. This important two-day conference is free and open to the public; however, registration is required. 
This conference will explore many of the unknowns to help identify traffickers, clients, and victims. "We hope to instruct participants about how to spot potential trafficking, where and how to report a tip, as well as explain how predators operate and how they groom their potential victims," states conference organizer, Dr. Katheryn Thompson. "These topics will not only be addressed for the protection of our students who are part of the targeted population, but also so that participants can share what they learn with their younger siblings, their friends, and their children," adds Thompson.
The opening session from 12:30 to 2:30 p.m. on Friday, October 26 in the Erlanger Health Science Center lobby will address the problem in the Chattanooga region. Guests speakers will include representatives from the FBI, Homeland Security, TBI, and the Chattanooga Police Department. 
Saturday, October 27 will begin with an open plenary session panel discussion from 9 a.m. to Noon that will focus on the complex trauma in the victims of human trafficking and address issues affecting prosecution and treatment. Panel members include Jerry Redmon, director, SecondLife; David and/or Jolien Haggard, directors, Blazing Hope Ranch; and Mimi Nikkel, director of ministries, Love's Arm Outreach Ministries.
Breakout sessions from 12:30-2:30 p.m. will look at two of the top venues that attract human traffickers. A discussion about the hotel industry will be led by Chattanooga State's Director of Hospitality and Tourism Management program Dan Zink, while a second session will address the trucking industry.
The International Labour Organization estimates that forced labour and human trafficking is a $150 billion industry worldwide. Because victims are "sellable," they are trafficked for an average of seven years, and their body can be sold hundreds and thousands of times. There are more than 40 million victims globally. In speaking with local police and service agencies, Dr. Thompson shared that victims of trafficking in the Chattanooga area are usually from this area and that the primary issue is the sex trade.
As the second fastest growing criminal industry, Human Trafficking crimes rank just behind Drug Trafficking in Tennessee. Approximately 94 minors are trafficked within the state of Tennessee each month according to End Slavery Tennessee. Despite the tragic reality of trafficking, Tennessee is one state leading the way in legislation and action to combat trafficking.
To research this conference please visit www.library.chattanoogastate.edu/HumanTrafficor to register online visit www.ChattanoogaState.edu/human-trafficking-invisible-slavery-confernce. For further assistance, call Dr. Katheryn Thompson at (423) 697-3387 or email Katheryn.thompson@chattanoogastate.edu.