Groundbreaking for Advanced Manufacturing Building Announced
May 23, 2022 | Betty A. Proctor | Internal Press Release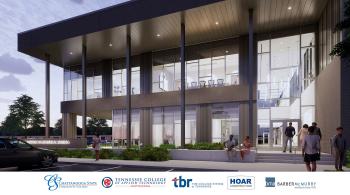 Groundbreaking ceremonies for the new Tennessee College of Applied Technology (TCAT) Advanced Manufacturing Building will take place on the main campus of Chattanooga State Community College.
Date:                Tuesday, June 7, 2022
Time:               11:00 a.m. ET
Location:          Chattanooga State Community College
                           4501 Amnicola Highway, Chattanooga, TN
Please make plans to join TBR Chancellor Flora Tydings, Chattanooga State President Rebecca Ashford, and Executive Vice President Jim Barrott for a Groundbreaking Ceremony at the future home of the new $21.7M TCAT Advanced Manufacturing Building located on Chattanooga State's main campus.
The ceremony will begin in the C.C. Bond Humanities Auditorium at 11 a.m. ET and we will then move outside under the tent for the groundbreaking.
Contact Nancy Patterson, vice president for College Advancement and Public Relations, with questions at (423) 697-2630 or email Nancy.patterson@chattanoogastate.edu.