Global Scholar Grad Headed for Ph.D. at Stanford U
May 15, 2019 | | Internal Press Release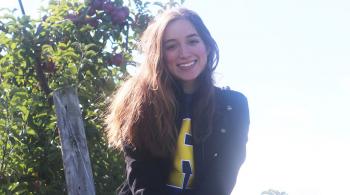 The Global Scholars academic honors program at Chattanooga State Community College is known for producing some of the best and brightest graduates who go on to big name universities. Global Scholars graduate Rebeca Toro earned her associate degree in Mechanical Engineering from ChattState in 2016 and then continued her studies at the University of Rochester before being accepted into Stanford University's Mechanical Engineering Ph.D. program. Her department fellowship provides tuition and living expenses for 2019-2020. "The Ph.D. program takes an average of five years to complete," states Rebeca, "but depends highly on research."
Science has been a favorite subject of Rebeca's since middle school, and she says that physics was her favorite class. It wasn't long before she fell in love with the world of mechanical engineering and decided to further pursue this topic. Her father would take she and her sister to the factory where he worked, and this piqued her interest in manufacturing and design.
Rebeca smiles as she recalls her initial meeting with a Global Scholars advisor. "When I moved to the U.S., I was not fluent in English. During my application interview, I was so scared and felt like I did not make a lot of sense, but the advisor was fluent in Spanish and was able to translate everything for me," shares Rebeca. "This made me feel so included in the school and really helped to decrease my fear of studying in a different country," she adds.
Global Scholars Director, Amanda Bennett, is extremely proud of Rebeca's accomplishments. "Rebeca exemplifies what is best about being an honors student at ChattState. She's passionate, hardworking, and capable of achieving her dreams. She continues to impress me with her intellect and exceptional character."
Global Scholars made a lasting impression upon Rebeca as she seized opportunities to take honors classes, study abroad in Japan, and gain confidence. "ChattState and Global Scholars was a stage where I developed myself as a true 'global scholar;' I was able to strengthen my passion for science while helping the community," says Rebeca. In addition to performing research in fluid mechanics, Rebeca enjoys paddle boarding, walking and reading.
Rebeca envisions a future working at NASA because she wants to work on the development of more efficient propulsion systems that boost the nation's current capacities into a new paradigm of transportation.
Being a member of the Global Scholar honors program gives students the opportunity to gain a world perspective through deeper and more connected college experiences. Class sizes are small, allowing for in-depth discussions with professors and other honors students who share a passion for learning. An ACT composite score of 25, an SAT score of 1130, a high school GPA of 3.5, or a GPA of 3.5 or higher based on a minimum of 12 hours of college-level courses is required to become a Global Scholar. "I can truly say that Global Scholars is the reason for where I am now and not just a factor that decreased the amount of time it took me to arrive at this stage in my life," states Rebeca.
For more information on Global Scholars, call (423) 697-2577 or visit https://www.chattanoogastate.edu/global-scholars.