Girls in Leadership STEM Summit Attracts 143
November 5, 2018 | | Internal Press Release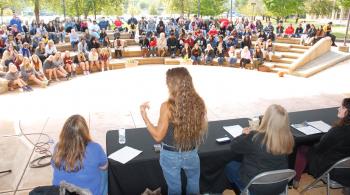 "Don't let anyone tell you that you cannot do or be anything that you want," was the final piece of advice reiterated by members of the STEM panel at the Girls in Leadership STEM Summit for high school girls at Chattanooga State Community College on October 19 for Nuclear Science Week. The panel, moderated by Kendra Ware, TVA Women in Nuclear chair, followed a day filled with hands-on activities and workshops led by the Engineering & Information Technologies faculty for 143 girls from eleven area high schools in grades 9-12.
The event was coordinated by Samantha Travis, technical specialist for the Regional Center for Nuclear Education and Training at Chattanooga State, who is also a ChattState Radiation Protection program graduate. The Summit was held at the college to educate young women about becoming leaders in STEM-related careers. Additional sponsors included Girl Powered and TVA's Women in Nuclear Chapter. Girls were engaged and engrossed in various STEM learning activities throughout the morning. 
One of the most popular activities was printing 3-D miniature pumpkins, which girls decorated using glitter and paint. In the non-destructive testing lab, girls wore protective goggles as they used fluorescent and visible penetrate to test for defects in welds. Seeing and feeling the actual strength of welded materials was a surprise to most girls as they examined a variety of pieces. 
The robotic activity yielded the most laughs as girls attempted to navigate a robot up a ramp and maneuver it around several obstacles to retrieve a "radioactive" source. Other areas of exploration included nuclear power operations, radiation protection, cyber defense, coding, and general engineering.
After lunch, TVA panelists explained their job to the girls and answered questions. Panelists included Moderator Kendra Ware; Brenda Simril, senior manager of mechanical and civil design engineering; Judith O'Dell, mechanical maintenance trainer; Heather Pickard, real-time systems analyst, nuclear cyber security; and Jennifer Ledbetter, senior specialist, cybersecurity governance. Two of the most insightful questions posed were, "What are the traits of women in leadership?" and "What was your biggest failure and what lesson did you learn?"
According to Women in Technology, STEM occupations are growing 17 percent faster than any other field. The National Science Foundation estimates that 80 percent of jobs for the years to come will require math and science skills, while the U.S. Bureau of Labor Statistics states that 15 of the 20 fastest growing fields will require significant math and science preparation.
To find out which STEM careers interest you, visit www.chattanoogastate.edu. For more information about nuclear programs at Chattanooga State, email Samantha.travis@chattanoogastate.edu.