Girls Basketball Day Camp Coming in July
June 14, 2019 | | Internal Press Release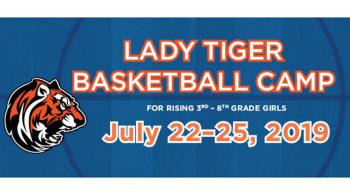 Rising 3rd to 8th grade girls will have a chance to polish their skills and learn new ones while having fun during the Lady Tiger Basketball Camp. Camps will take place the week of July 22-25, 2019. 
The camp is divided into two, four-hour sessions. Mornings will focus on grades 3-5 from 8 a.m. to Noon. Middle school age girls in grades 6-8 will meet from 1-5 p.m. The camp fee is $50 per child.
"This is the best time of the year to focus on the "FUN"damentals of the game. Campers will learn skills through individual stations, position development, and offensive/defensive strategies as they participate in 1-on-1 to 5-on-5 games," says Lady Tiger Head Coach Stacey Franklin.
Come join us! Register online today at www.chattanoogastate.edu/girlsbasketballcamp
You can also visit the Chattanooga State website to download the registration form: https://www.chattanoogastate.edu/sites/default/files/girls_basketball_ca...
The deadline to register is July 17, 2019.