Girl Scout STEM Day at Chattanooga State
October 18, 2019 | Betty A. Proctor | Internal Press Release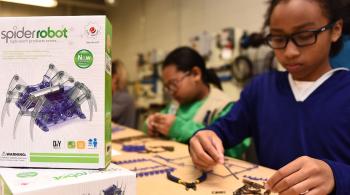 During STEM Awareness Month, Chattanooga State Community College hosted Girl Scout STEM Day on October 12. Nineteen members, from the Girl Scouts of the Southern Appalachians at the Cadette, Senior, and Ambassador levels, attended two STEM-related workshops in their quest to earn a badge. 
Morning workshops choices included CAD (Computer Aided Design), Robotics, Nuclear Science, Website Design or Cyber Defense. Afternoon choices included Coding, 3D Printing, Industrial Technology, Computer Technician, and Video Editing.
The event was sponsored by Kenco, with featured speaker Kristi Montgomery, who inspired the girls by relating her journey of creating the Innovation Lab at Kenco.
Chattanooga State faculty participants included Jerry Roberts, Lisa Miller, Jeremy Burchfield, Patrick Ward, Hanadi Mohamed, Lance Narramore, and Chris Willis. The event was coordinated by Lyn Potter and Savitha Pinnepalli.
For details about future events sponsored through the Engineering and Information Technologies Division, contact Savitha Pinnepalli, savitha.pinnepalli@chattanoogastate.edu or call (423) 697-4756.