Get the Degree You Always Dreamed of Through TN Reconnect
December 6, 2019 | Betty Proctor | Internal Press Release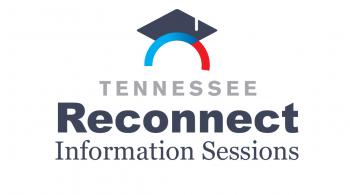 Find out if Tennessee Reconnect is for you! Come to a Chattanooga State information session about Tennessee Reconnect at 10 a.m., 11a.m., Noon or 1 p.m. on Saturday, December 7. Other sessions will be held December 10 and 17 at 10 a.m. or December 12 and 19 at 5 p.m. All sessions are held in IMC-124.
In Tennessee, 900,000 adults have some college but no degree, and only 39% of working age adults currently have a degree or credential. TN Reconnect can help adults to reach a goal they set for themselves a long time ago, expand career opportunities by providing a better job or a promotion, as well as impact their family through demonstrating the result of hard work and determination. Approximately one-in-four undergraduate college students at Tennessee public institutions are adult learners.
All new, current or returning adult students residing in Tennessee may apply at TNReconnect.gov – and note there are no income requirements to qualify before applying to Chattanooga State at chattanoogastate.edu. When these steps are completed, file the FAFSA at FAFSA.ed.gov. Once eligibility is determined, adult students may enroll in a degree or certificate program at least part-time. 
Financial aid representatives will help with FAFSA from 10 a.m. to 2 p.m.
All TN Reconnect applicants need to RSVP for an information session. Learn more and RSVP for a Reconnect Info Session at chattanoogastate.edu/tnreconnect or call (423) 697-3346.
Chattanooga State Community College consistently offers a high-quality education with an 18:1 student-to-teacher ratio, 98% job placement rate, and 98% licensure pass rate.